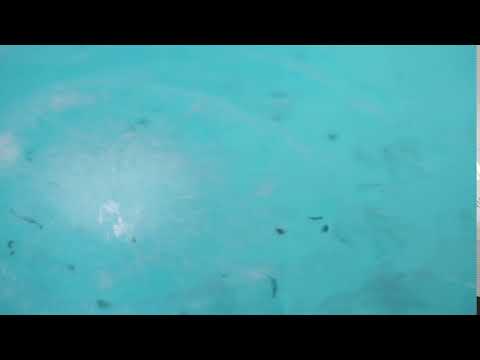 Float away from it all with this inspiring deep blue fizzer.
We'll send you an email as soon as it is in stock
We will keep you posted
You'll receive an email as soon as this product is in stock
Continue Shopping
Lavender and lemon oils create the perfect balance of relaxation and rejuvenation, bringing a wave of tranquility to your tub. For a truly oceanic experience, we've added in some of nature's finest ingredients: sea salt and seaweed. These mineral-rich gems soften the skin and ease tired muscles. Lie back to sail away to a clear head and a revitalized body.
Vegan
Self Preserving
Naked
Fill your tub with warm water, drop in the bath bomb and lie back to enjoy its lovely color and gorgeous fragrance.
Sodium Bicarbonate
,
Citric Acid
,
Coarse Sea Salt

(Sodium Chloride)
,
Fine Sea Salt

(Sodium Chloride)
,
Fragrance
,
Arame Seaweed

(Eisenia arborea)
,
Lemon Oil

(Citrus limonum)
,
Lavender Oil

(Lavandula Angustifolia)
,
Seaweed Absolute

(Fucus vesiculosus)
,
Dipropylene Glycol
,
*Eugenol
,
*Geraniol
,
*Limonene
,
*Linalool
,
Blue 1
,
Yellow 5
.
We do not test our finished products on animals. We also only purchase from ingredient suppliers who do not test on animals.
Learn more about our values
Shipping
Ground shipping starts at $6.00 and takes 2-8 business days to arrive after being shipped.
Priority shipping is also available.
Return Policy
Please note: we cannot accept returns without prior authorization.
To return an order made online or over the phone, contact our dedicated Customer Care team to get started.
Returned items need to be 75% intact and returned with their original packaging and include a copy of the packing slip. You can return items up to 90 days after the date we shipped your order. Shipping charges are not usually refundable.
For information on in-store returns and more, see full return policy
Why it works
---
Coarse Sea Salt
Softens and exfoliates skin, Adds volume to hair, Mineral-rich
"I felt like a beautiful mermaid with this one. Love it so much!!"
E is for everything, Tennessee
So disappointed with this one
Lady Jay
So with blue being my favorite color and loving all things water, I was so excited to get this bomb especially because it had lavander in it (my favorite scent). I orderd 2 and refused to share the 2nd with my sister because i was so excited about it. Finally get my box and open it up and saw the black things sticking out. I started taking pics because it looked like a poorly constructed bath bomb. Was still excited about using it so i disregarded. Popped it in the tub and was so underwhelmed after following the ABSOLUTELY AMAZING experience with the Goddess bomb. The seaweed was a turn off, the scent was only slightly noticable, i didnt see any shimmer like other people described. Just really left me with wanting so much more. I dont think ill be buying this one ever again.
So relaxing and comforting
Jenn
Pittsburgh, PA | 7 days ago
I didn't read the description when I bought this and was surprised to see what looked like needles coming out if the bomb. I got in the bath and checked and saw it's seaweed. It is so comforting and the seaweed even felt like it was tickling me. I highly recommend this bath bomb to anyone frazzled and tired.
Yes, I would recommend to a friend
Seaweed everywhere!!
Bath Time
This bomb is PACKED with seaweed that clogs up the drain and is just gross in the tub. It's disgusting clinging all over you too. Awful.
Its a lot to clean up
Hannah
Itd be better if it was wrapped in some sort of cloth to catch all the seaweed, my tub looked like someone dumped a bunch of lawn clippings in it :(
Didn't realize how much seaweed was actually in this
B
I didn't realize there was any seaweed in it at all, not to mention it was so much. It ruined my drain. Everything is clogged. It was not bad while using but not really worth it.
Put it in a knee high stocking before bathing
Alexandra B
Acushnet, MA | 15 days ago
I love this bath bomb! All you have to do is put it inside of a knee high stocking before your bath and you won't have to worry about the seaweed touching you and clean up is a breeze. Don't let the seaweed deter you from this bath bomb!
Yes, I would recommend to a friend
I would not buy this one again
Sweettea88
Grand Rapids, MI | 15 days ago
Freaked me and my 8 year old granddaughter out! She loves lush bath bombs but when the Big Blue dissolved, the black things were "totally gross" to use her term. After we drained the water there were a handful left in the tub. Yccch
Seaweed!
Bbmom
Cleveland, OH | 16 days ago
I bought this for my kids to use, because they love bath bombs. They were both freaked out by the seaweed. My one child would not sit down in the bath. Not to mention the effort needed after bath to wipe down the tub to clear it of the seaweed. So even through it smelled lovely. I would not buy again.
love.
tyler
dallas, texas | 18 days ago
very relaxing. love the color! not sure why most are complaining about the seaweed. the description tells you exactly whats in it when you buy it. 😒
Yes, I would recommend to a friend
Weird reaction
Sarita
Salt Lake City, Utah | 18 days ago
After the bomb was dispersed, I noticed my skin started to itch and feel prickly. I've never had this sort of reaction to any bath bombs or bath related items, especially from lush! I wasn't sure exactly what my skin was reacting to and the feeling wasn't going away so I had to quickly drain my bath and wash off.
Customers who like this item also like:
Never run out of your favorites
Stay stocked up with regular deliveries every one, two or three months.
Commitment-free, hassle-free
You can pause, skip, change or cancel an order at any time.
Customize your ReFresh
Build a personalized subscription plan that works for you.