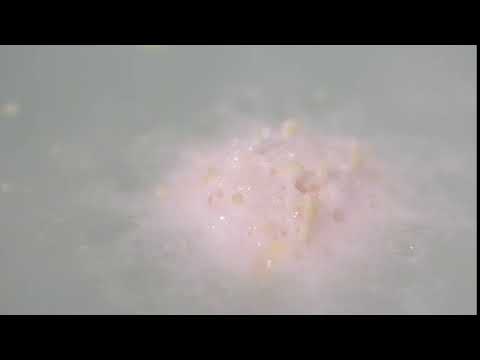 It may look unassuming, but don't let that fool you: this fizzer is nothing less than a little slice of bathing heaven.
We'll send you an email as soon as it is in stock
We will keep you posted
You'll receive an email as soon as this product is in stock
Continue Shopping
Pop it into your tub and lie back among a dreamy vanilla scent and a blanket of creamy, buttery froth. Hot baths can leave your skin feeling dried out, but Butterball's generous flecks of fair trade organic cocoa butter keep every inch of your skin soft and hydrated.
Proudly packaging-free
Vegan
Self Preserving
Naked
Fill your bathtub with warm water, drop in the bath bomb and lie back to enjoy its lovely color and gorgeous fragrance.
We do not test our finished products on animals. We also only purchase from ingredient suppliers who do not test on animals.
Learn more about our values
Shipping
Ground shipping starts at $6.00 and takes 2-8 business days to arrive after being shipped.
Priority shipping is also available.
Return Policy
Please note: we cannot accept returns without prior authorization.
To return an order made online or over the phone, contact our dedicated Customer Care team to get started.
Returned items need to be 75% intact and returned with their original packaging and include a copy of the packing slip. You can return items up to 90 days after the date we shipped your order. Shipping charges are not usually refundable.
For information on in-store returns and more, see full return policy
"A relaxing bath, the soft scent of vanilla wafting up as you feel your skin soften in the creamy, cocoa butter filled waters. I use this bomb whenever I'm having a rough day. Its comforting scent helps me relax."
A., Baltimore, MD
Perfect Amount of Smell for a Kid
L2
Rockford, MI | 5 days ago
I got my son this bath bomb as something fun for the tub. The scent is light and the perfect amount for a child. Would for sure buy again!
Yes, I would recommend to a friend
Really liked it!!
Lacey
I really liked this product! It smelled good & made my skin feel so soft & buttery feel! Definitely will buy again! Great size too!!
Yes, I would recommend to a friend
Moisturizing and Cozy
Nic
New York, NY | 11 days ago
This is my favorite bath bomb from Lush! Between the cozy smells and just leaving my skin feeling so moisturized, I grab this every time I buy/order from lush.
Yes, I would recommend to a friend
Moisturizing but oil spots left behind in tub!
Ktmct
Being in the tub, I didn't notice a smell to this. The water looked odd because it had a top layer of "oil spills". Didn't feel moisturizing in the tub. Felt dry like when you bath with only water. Disappointed with that. When I got out the tub my skin felt very soft and moisturized. Only bath bomb I haven't been 100% about.
Awful Feeling
K
Lake Grove, NY | 14 days ago
It left a gross film all over my body and tub. I tried to wash it off with soap and it will not get off. I do not like the feel of it and will not be getting it again.
Definitely added to my skincare routine
Linds
I've never ordered or have tried Lush before and this was the first product I tried from my order. I am addicted! The smell of the bath bomb and the way it left my skin feeling is just amazing. I immediately text my friends and told them they need to get it ASAP!
Yes, I would recommend to a friend
moisturizing vanilla bliss
jess the lushie
Ontario, Canada | 21 days ago
i had to leave a review after seeing all the bad reviews for such stupid reasons!!! i've been using this bomb for years & let me debunk all of the misleading reviews you may have seen. it smells delightful like sweet vanilla & creamy cocoa butter. the little bits in it are cocoa butter & melt in the water. it may leave your tub a little slippery but worth it IMO, nothing a hot rinse won't take care of though. i always buy this bomb for people who are new to lush/bath bombs. my mom loves this one for her dry skin! no need to put lotion on after the bath & that to me is a win. it's simple & effective.
Yes, I would recommend to a friend
Best one I have used this far!
BB
Pennsylvania | 23 days ago
Very moisturizing, makes the tub a bit slippery though. The scent is nice like a vanilla sandalwood, very relaxing and saves my dry skin from these cold PA winters!
Yes, I would recommend to a friend
moisturizing!!!
nel
more of a moisturizing bath then the bath oils. my skin has NEVER felt better.
Yes, I would recommend to a friend
I will be repurchasing!!
Hikikomori
I got this (and many other bath bombs) as a christmas gift and I was instantly in love with this scent. It smells clean and soft, not overpowering like a lot of the glittery, messier ones. My skin felt soooooo silky when I was in there and even better when I got out. My skin, 24 hours later, still feels moisturized. Perfect to combat the dryness in the wintery air!!!!
Yes, I would recommend to a friend
Customers who like this item also like:
Never run out of your favorites
Stay stocked up with regular deliveries every one, two or three months.
Commitment-free, hassle-free
You can pause, skip, change or cancel an order at any time.
Customize your ReFresh
Build a personalized subscription plan that works for you.