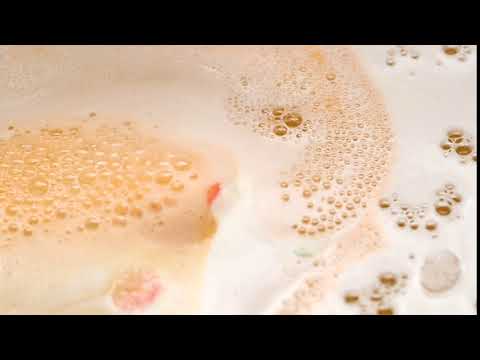 Unleash some fire and bathe in a whirlpool of magnificently vibrant, sizzling color and a spectacular explosion of sights, sounds and scents.
We'll send you an email as soon as it is in stock
We will keep you posted
You'll receive an email as soon as this product is in stock
Continue Shopping
Inhale the refreshing citrusy scent of lemon and bergamot and watch as this bomb fizzes, crackles and ends with a glittery golden surprise. Drop one of these in the bath for a serious wake-up call on groggy mornings or before an evening out.
Vegan
Self Preserving
Naked
Fill your bathtub with warm water, drop in the bath bomb and lie back to enjoy its lovely color and gorgeous fragrance.
Sodium Bicarbonate
,
Citric Acid
,
Fragrance
,
Popping Candy

(Isomalt, Lycasin, Carbon Dioxide)
,
Lemon Oil

(Citrus limonum)
,
Bergamot Oil

(Citrus Aurantium bergamia)
,
Jasmine Absolute

(Jasminum grandiflorum)
,
Cream of Tartar

(Potassium Bitartrate)
,
Water

(Aqua)
,
Gardenia Extract

(Gardenia jasminoides)
,
Sodium Laureth Sulfate
,
Propylene Glycol
,
Lauryl Betaine
,
*Citral
,
*Limonene
,
*Linalool
,
Red 33
,
Red 4
,
Red 27
,
Orange 4
,
Synthetic Fluorphlogopite
,
Iron Oxides
,
Titanium Dioxide
,
Tin Oxide

(Tin oxide)
,
Silica
,
Rice Paper

(Oryza sativa)
.
We do not test our finished products on animals. We also only purchase from ingredient suppliers who do not test on animals.
Learn more about our values
Shipping
Ground shipping starts at $6.00 and takes 2-8 business days to arrive after being shipped.
Priority shipping is also available.
Return Policy
Please note: we cannot accept returns without prior authorization.
To return an order made online or over the phone, contact our dedicated Customer Care team to get started.
Returned items need to be 75% intact and returned with their original packaging and include a copy of the packing slip. You can return items up to 90 days after the date we shipped your order. Shipping charges are not usually refundable.
For information on in-store returns and more, see full return policy
"...like sitting in the center of glittering, gold clouds."
Kheichou, Missoula, MT
All That Glitters...
Many glitters contain PET or microplastics, which often end up in the ocean, damaging marine wildlife and polluting our seas with plastics that don't break down. But your love of glitter can be fulfilled without plastic.
See how we sparkle
Not much bath art
irl mermaid
Orlando, Florida | 12 days ago
The scent was pleasant and light but enough for my mom to compliment me on it. It left the water orange and glittery but I really would've liked if it had more pop in the popping candy
Yes, I would recommend to a friend
Smells delish!
Laura
This was a purchase made on a whim and it was a delightful surprise! The smell of the bomb is really nice and the perfume lingered on my skin after I finished my bath (in a nice way!) There were no popping bits in the bath bomb, which I see a few other people have mentioned too. The glitter isn't too intense, which is a good thing, but I needed to give my tub a good scrub afterwards to clean up. There was a teeny bit of sparkle on my skin which I'm not a huge fan of but seeing as we're in lockdown and I don't need to leave the house it's ok. Overall: I'd buy this again!
Yes, I would recommend to a friend
Smells good, no a lot of glitter, but no pop...
Gabouelle
One of my favorite bath bomb; It gives a nice colour to the water, makes the skin very soft. Also, there is not a lot of glitter, so you don't need to clean the tub right after, just to rinse it and it all goes away. The only thing is that there is no pop, no ''special'' sound effect. It does sizzle for a long time, but that's it. Over all, I recommend it, subtle odour and very calming!
Yes, I would recommend to a friend
Smell good
Ju
it smells so good and looks very nice
Yes, I would recommend to a friend
Skin is amazingly soft!
Mom of 3 boys
Westchester, il | 2 months ago
Wow! With 3 boys, I hardly ever take bathes and honestly, rarely enjoy them. This just changed my mind! The aroma is light in fragrance (and, I get sick on strong scents) and the color was very pleasant. I truly relaxed for once. My skin is amazingly soft and the scent actually stays! I discovered Lush a little over a year ago and they have completely won me over in the bath, body bars and foot arena. Give this a try, it's amazing!
Yes, I would recommend to a friend
I will buy this again!
Jen
Salyersville, KY | 2 months ago
Love this one! It smells SO good! I saw where someone didn't like the scent but how can you not?? It is wonderful, shimmery, and the pops/crackles are so nice too. 10/10 for me! 👍🏼
Yes, I would recommend to a friend
Relaxing, my skin feel soft
Isa
Delicate smell, relaxing , leave the skin soft
Yes, I would recommend to a friend
My all time favourite
Iza
Best bath bomb ever! It's scent is so soft and subtle. The surprise in the middle is lovely. Leaves skin soft and moisturized, in addition to smelling heavenly.
Yes, I would recommend to a friend
So Relaxing!!!!!!
Autumn
If you are looking for a citrus smell bath bomb that also has a nice firework display with it, this is the right bath bomb for you. When it starts to fizz its like a fireworks display in your own bathtub!!!
Yes, I would recommend to a friend
The most fun I've ever had!
Kaitlin S.
Houston, Texas | 2 months ago
Oh my goodness I absolutely love this bath bomb. It smells so great and left my skin super soft. It was like a little fireworks display in my bath. The only other time I've watched a bath bomb until it was completely dissolved was with The World's Smallest Disco bath bomb, which is only around during the holidays.
Yes, I would recommend to a friend
Customers who like this item also like:
Never run out of your favorites
Stay stocked up with regular deliveries every one, two or three months.
Commitment-free, hassle-free
You can pause, skip, change or cancel an order at any time.
Customize your ReFresh
Build a personalized subscription plan that works for you.