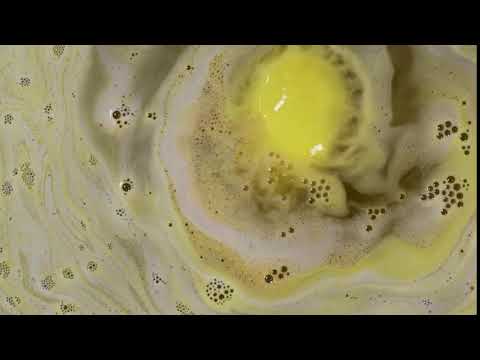 Melting into rings of rainbow colors, Groovy Kind Of Love will fill your tub with peace, love and beautifully scented harmony.
We'll send you an email as soon as it is in stock
We will keep you posted
You'll receive an email as soon as this product is in stock
Continue Shopping
Rosewood, bergamot and ylang ylang oils release a peaceful, uplifting scent that will surround you in a loving embrace like a crowd at Woodstock. Sink deep, inhale and emerge from the tub feeling rejuvenated, balanced and refreshed.
Fill your tub with warm water, drop in the bath bomb and lie back to enjoy its lovely color and gorgeous fragrance.
Sodium Bicarbonate
,
Citric Acid
,
Sodium Coco-Sulfate
,
Fragrance
,
Rosewood Oil

(Aniba rosaeodora)
,
Bergamot Oil

(Citrus Aurantium bergamia)
,
Ylang Ylang Oil

(Cananga odorata)
,
Water

(Aqua)
,
Propylene Glycol
,
Dipropylene Glycol
,
Benzyl Alcohol
,
*Limonene
,
*Linalool
,
Yellow 10
,
Red 4
,
Yellow 5
,
Red 27
,
Red 28
,
Blue 1
,
Red 33
.
We do not test our finished products on animals. We also only purchase from ingredient suppliers who do not test on animals.
Learn more about our values
Shipping
Ground shipping starts at $6.00 and takes 2-8 business days to arrive after being shipped.
Priority shipping is also available.
Return Policy
Please note: we cannot accept returns without prior authorization.
To return an order made online or over the phone, contact our dedicated Customer Care team to get started.
Returned items need to be 75% intact and returned with their original packaging and include a copy of the packing slip. You can return items up to 90 days after the date we shipped your order. Shipping charges are not usually refundable.
For information on in-store returns and more, see full return policy
"The fizzing is beautiful, a mixture of purple, pink, oranges and yellows... It leaves the bath with a gorgeous orange, like a large vat of honey."
Lena, Solana Beach, California
Beautiful
Dezz
I really love the color result at the end. It resembles an amber color. The scent is beautiful but it doesn't last for very long. It lasts forever though in the bath. Some batb bombs are blink and its gone.. but not this one
Yes, I would recommend to a friend
Maybe I got a dud?
Christy
I have used this bath bomb before and loved it. This time it just sunk to to bottom of the tub and turned the water a frothy brown. Maybe it was a dud?
Good
Karolina
This bath bomb has a scent that is confusing, maybe a mixture of herbal and fruity and something else, its not my favorite scent but its okay. When I put it in the water it fluffed up and initially dissolved fast and than slowly. It created lots of beautiful swirls of color on top of the water, half of my bath tub was filled with it. After fully dissolving the bath water was a brown shade of orange, which is not that pretty. I recommend this bath bomb mainly for the swirls of color.
Yes, I would recommend to a friend
Probably won't buy again
Mags
Fayetteville AR | 14 days ago
Smelled really great but after it was done fizzing it's just looked like I filled the tub with beer. Which made for a great photo op which is the only reason it gets 3 stars. However this is definitely not one I would buy again.
Not for everyone, but an a+ for me
Vivian
Portland, OR | 16 days ago
This bomb is one of my favorites. It smells strongly of fruit punch, and the rainbow layers makes ribbons of colorful foam while its fizzing. The color does look like urine, but i just think its funny. (You could also say it looks like honey or apple juice). It also makes me feel very soft when i get out. If the color is gonna bother you, i wouldnt get this.
Yes, I would recommend to a friend
Exceptionally Exquisite
Lush Crush
First of all, this bath bomb is massive and takes forever to dissolve (no complaints, emphasis only). You have to experience it to believe it. The colors were so pretty, the smell is delightful, but it's the way my skin felt afterwards that was the prize. With each turn I felt like I was wearing new skin made of silk and it lasted throughout the day. I am 100% in love. This will be in heavy rotation in my tub!
Yes, I would recommend to a friend
Good not great
Em
Smells ok, not strong at all. Looks cute until it's fully dissolved and you're soakin' in a tub of amber beer, foam and all. Kind of a jarring experience but makes my skin feel nice so not an absolute waste of money. I'll stick to my other Lush favs
Favourite
GroovyLushie
This was ironically the first bath bomb I ever tried from lush and it's been my go to ever since. The calming smell relaxes you while you watch a swirl of colour fill your tub. The frothy bubbles make your skin silky smooth, no need for moisturizer afterwards.
Yes, I would recommend to a friend
Smells like candy-not what I wanted
S.E.
Smells like a lollipop. Not woodsy or earthy or grounding in the least. Very pretty, though. Fun rainbow foam And a pretty honey colour at the end. Would be a favourite except for the smell.
Yuck, never again
Megs
At first I thought this one was fun and smelled good, which it was and did at first. Unfortunately the problem is that the water turns a dark yellow brown with foamy looking stuff on top, so essentially like a huge vat of hot urine. GROSS. I couldn't get the thought out of my head and drained the water sooner than I had planned to. This one also doesn't have any glitter/sparkle in it (which I like), so there's nothing added to take away from the urine-ness of the rest of the experience. Very unfortunate.
Never run out of your favorites
Stay stocked up with regular deliveries every one, two or three months.
Commitment-free, hassle-free
You can pause, skip, change or cancel an order at any time.
Customize your ReFresh
Build a personalized subscription plan that works for you.