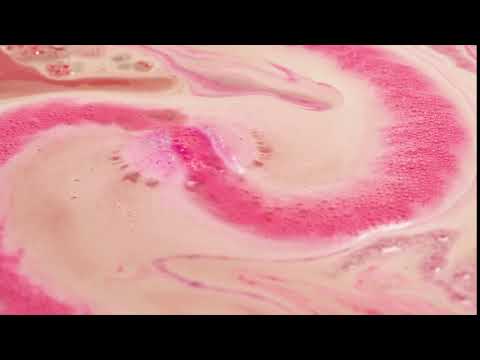 This bath bomb smells amazingly sweet. It was frothy and left the tub water a beautiful pink hue and full of sparkles.
silawdab, San Diego
Vegan
Self Preserving
Naked
Drop this pretty fizzer into your tub when you're dreaming of a candy-scented getaway. Luxuriate among lustrous swirls of silver in vivid pink waters, and let the sweet scent of vanilla and tonka absolutes cozy up to your senses. Next time you need a sweet escape from reality, think Pink!
See how to use
We'll send you an email as soon as it is in stock
We will keep you posted
You'll receive an email as soon as this product is in stock
Continue Shopping
This bath bomb smells amazingly sweet. It was frothy and left the tub water a beautiful pink hue and full of sparkles.
silawdab, San Diego
Fresh ingredients
Full Ingredients
Sodium Bicarbonate
,
Citric Acid
,
Corn Starch

(Zea mays)
,
Fragrance
,
Snowflake; Silver Glimmer and Fandango Pink Lustres

(Synthetic Fluorphlogopite, Titanium Dioxide, Tin Oxide, Iron Oxides, Red 7 Lake, Red 27)
,
Lavender Oil

(Lavandula Angustifolia)
,
Tonka Absolute

(Dipteryx odorata)
,
Vanilla Absolute

(Vanilla planifolia)
,
Neroli Oil

(Citrus Aurantium amara)
,
Cream of Tartar

(Potassium Bitartrate)
,
Titanium Dioxide
,
Sodium Laureth Sulfate
,
Lauryl Betaine
,
DRF Alcohol
,
*Limonene
,
*Coumarin
,
Red 27
,
Red 4
,
Red 33
.
We do not test our finished products on animals. We also only purchase from ingredient suppliers who do not test on animals.
Learn more about our values
How to Use
Fill your bathtub with warm water, drop in the bath bomb and lie back to enjoy its lovely color and gorgeous fragrance.
All That Glitters...
Many glitters contain PET or microplastics, which often end up in the ocean, damaging marine wildlife and polluting our seas with plastics that don't break down. But your love of glitter can be fulfilled without plastic.
See how we sparkle
Please Keep This Product!
Kaylla
Cincinnati, OH | 28 days ago
This was one of my first bath bombs that I truly loved and it's still my favorite of all time. It smells amazing, it's pretty, and it's just all around my favorite product that Lush has. It's a shame that this product will be retiring, but at least I know now rather than knowing once it's already gone.
Yes, I would recommend to a friend
I would not buy this again
Rk
The smell is pretty it has gold shimmer but what I don't like is it stained my skin horribly and it stained my tub 😢. I've never had a lush bath on do this.
Please don't take it away from me.
Pamdazzle
Rancho Cucamonga | 2 months ago
Please please don't take this one away from me. I can't lose this smell. I love it. Please keep it. I really can't replace this one.
Yes, I would recommend to a friend
LOVE IT
Laura
I love this bath bomb it smells so great. I hope the spray will be back in stock soon.
Yes, I would recommend to a friend
It was just okay
Ashley
Nothing wrong with this, but when there's so many good bombs to choose from, this would be last on my list. The bath art, smell, and final color are subtle and underwhelming. The colors weren't very bright.
Yes, I would recommend to a friend
Pretty with a subtle smell, but stained my tub
Nicola
Initially, I really liked this bath bomb. It fizzed for long time and left the waters a bright and deep pink. However, the smell is very subtle (did not last on my skin) and when I drained the tub I noticed it was stained along the bottom with pink. I spent 10 minutes after my bath scrubbing and rinsing it, and then gave up. I don't think it's permanently stained but it will take me a while to scrub off.
Guilty pleasure
Aunty Em
This bath bomb is like sophisticated bubblegum. The smell is sweet but delicate and not at all overwhelming. I enjoyed watching the bomb dissolve, it's silver shell dripping with glitter while the fast fizzing shimmering pink insides tinted the waters. I loved every moment in the opaque pink water and didn't want to get out. I get to feel so unapologetically girly and pampered each time I use this bomb, and it's definitely a repeat. I can't find a single bad thing to say about it, and encourage everyone else to enjoy this little luxury too. It will make you happy!
Yes, I would recommend to a friend
okay
angelica
With the name and color I expected it to be majorly pink, but it was subtle. needs more depth and scent. Just an Okay bomb to me. Wouldn't buy again.
This one's SO pretty
PrincessConsuelaBH
North Bay, ON | 7 months ago
I love this one!! My bath water is neon, bubblegum pink and the silver glitter swirls so pretty in the water. I wish the smell was stronger, but this one is definitely going back in my shopping cart! 🌸
Yes, I would recommend to a friend
Stained my skin for three days
Sarah Cat
Parma, Ohio | 9 months ago
I liked the smell and how it made my water look but it stained my skin for three days
Never run out of your favorites
Stay stocked up with regular deliveries every one, two or three months.
Commitment-free, hassle-free
You can pause, skip, change or cancel an order at any time.
Customize your ReFresh
Build a personalized subscription plan that works for you.