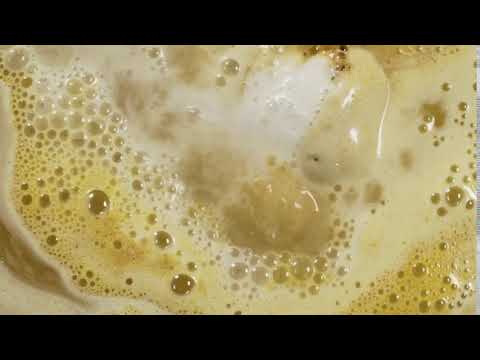 Take a break from caffeine and go for a mellower mood booster with a warm, spicy fizzer.
We'll send you an email as soon as it is in stock
We will keep you posted
You'll receive an email as soon as this product is in stock
Continue Shopping
This bath-ready latte is filled with plenty of brightening turmeric, to which we've added the soft, balancing notes of gardenia extract, tonka absolute and vanilla absolute. And it wouldn't be a turmeric latte without a little vegan milk! Our blend is made with skin-softening coconut milk powder, plus corn starch to soften and soothe your skin as you bathe. Side of avocado toast not included.
Fill your tub with warm water, drop in the bath bomb and lie back to enjoy its lovely color and gorgeous fragrance.
Sodium Bicarbonate
,
Citric Acid
,
Corn Starch

(Zea mays)
,
Synthetic Fluorphlogopite
,
Titanium Dioxide
,
Gardenia Extract

(Gardenia jasminoides)
,
Tonka Absolute

(Dipteryx odorata)
,
Benzoin Resinoid

(Styrax tonkinensis pierre)
,
Vanilla Absolute

(Vanilla planifolia)
,
Coconut Milk Powder (Cocos nucifera)

(Cocos Nucifera (Coconut) Extract)
,
Turmeric Powder

(Curcuma longa)
,
Cream of Tartar

(Potassium Bitartrate)
,
Sodium Coco-Sulfate
,
Cocamidopropyl Betaine
,
Dipropylene Glycol
,
Silica
,
Tin Oxide

(Tin oxide)
,
Coumarin
,
Eugenol
,
Fragrance
,
Iron Oxides
.
We do not test our finished products on animals. We also only purchase from ingredient suppliers who do not test on animals.
Learn more about our values
Shipping
Ground shipping starts at $6.00 and takes 2-8 business days to arrive after being shipped.
Priority shipping is also available.
Return Policy
Please note: we cannot accept returns without prior authorization.
To return an order made online or over the phone, contact our dedicated Customer Care team to get started.
Returned items need to be 75% intact and returned with their original packaging and include a copy of the packing slip. You can return items up to 90 days after the date we shipped your order. Shipping charges are not usually refundable.
For information on in-store returns and more, see full return policy
"This bath bomb is the best I've ever used. It's exactly what I want in a bath bomb: warm, relaxing, and moisturizing....it even has a white foam on top like a real latte!"
Strawberry Lover, Charleston SC
All That Glitters...
Many glitters contain PET or microplastics, which often end up in the ocean, damaging marine wildlife and polluting our seas with plastics that don't break down. But your love of glitter can be fulfilled without plastic.
See how we sparkle
Gorgeous smell...ugly color
Thia
This one is iffy, smells nice but turns the water the color of baby poop, I quickly grabbed the dragon bubble stick, so I got orange water with bubbles, but that is an expensive bath....so not going to buy this one again, but I will be buying the dragon bubble stick, that was surprisingly wonderful..
Smells wonderful!
Courtney
This bath bomb smelled wonderful and looked exactly like a coffee latte when it was fizzing. It made my skin very soft and the lovely smell lasted the length of the bath. I loved the gold dust water afterward. It did not stain my bathtub though i did rinse the tub out after because of all the sparkles. The only negative is after the bath bomb has finished fizzing the colour of the water is a murky yellow although the sparkles are fun.
Yes, I would recommend to a friend
Tub stained
Gwendolyn
United States | 2 months ago
I wanted to love it, but my tub is now stained yellow and I smell like old lady. Darn.
Lovely smell and great expereince
Elyse
Milwaukee, WI | 2 months ago
If you're not ok with turmeric, then this isn't for you. Found it quite lovely with a very mellow scent. You certainly are pretty sparkly when you're finished with the bath.
Yes, I would recommend to a friend
very pleasant bath bomb
dobobis
Boston, MA | 2 months ago
Makes the water feel really nice and also smells really good! Would recommend.
Yes, I would recommend to a friend
STAINED MY BATH TUB
Elizabeth
Yes. It smells very nice. But it left a large and very ugly stain in my bath tub. Bleach, soft scrub, a Magic Sponge didn't budge it. Customer assistance offered a $10 gift card and advice (e.g. scrubbing with lemon and baking soda). They claim it will eventually come out on its own...also implied I must not be scrubbing hard enough... but at the very least there should be a warning on the website (e.g. "may stain bath tub" and/or "be prepared to spend the morning after your nice, hot bath scouring your bath tub, or live with an ugly stain until it wears off on its own.") .
this is my favorite bath bomb
Anh
los gatos ca | 3 months ago
this is my favorite bath bomb! It's a sweet cinnamon scent that is creamy and decadent. My favorite scent from lush is American cream idk if that helps
Glitter everywhere
Tori
Pro tip: sparkly bath bombs from Lush are fun and pretty but prepare yourself to find glitter everywhere in your bathroom (and upon your person) from the moment you deploy it until the heat death of the universe. Still... No regrets
Yes, I would recommend to a friend
My new favorite bath bomb
Triston
Newfoundland | 4 months ago
the smell is amazing and left my skin so soft after my bath! If you dont want glitter to get absolutely everywhere dont buy this lol. For me it wasn't a problem though. When it was fizzing in the water It was like pure gold melting onto my hands! I woke up this morning and my hair still smells like the bath bomb. I will definitely be buying this again!
Yes, I would recommend to a friend
Can't get enough
Jenny
I love the way this bath bomb makes my skin look and feel! My skin is moisturized, I feel refreshed, and I sparkle just a little all over. What else could you want in a bath bomb!
Yes, I would recommend to a friend
Never run out of your favorites
Stay stocked up with regular deliveries every one, two or three months.
Commitment-free, hassle-free
You can pause, skip, change or cancel an order at any time.
Customize your ReFresh
Build a personalized subscription plan that works for you.