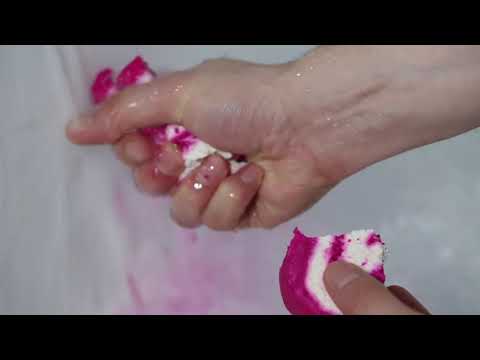 When life gets you down, crumble this best seller under hot, running water for passionately pink water and creamy, soothing bubbles.
We'll send you an email as soon as it is in stock
We will keep you posted
You'll receive an email as soon as this product is in stock
Continue Shopping
This massive slice of vibrant fruitiness will make you feel like you're being enveloped in a warm hug and gently consoled by the friendly fruity aroma of a blackcurrant candy. Snuggle in, and stay undercover until you're ready to face the world once again.
Vegan
Self Preserving
Naked
Crumble under running warm water as you fill the tub for mountains of fluffy, fragrant bubbles.
We do not test our finished products on animals. We also only purchase from ingredient suppliers who do not test on animals.
Learn more about our values
Shipping
Ground shipping starts at $6.00 and takes 2-8 business days to arrive after being shipped.
Priority shipping is also available.
Return Policy
Please note: we cannot accept returns without prior authorization.
To return an order made online or over the phone, contact our dedicated Customer Care team to get started.
Returned items need to be 75% intact and returned with their original packaging and include a copy of the packing slip. You can return items up to 90 days after the date we shipped your order. Shipping charges are not usually refundable.
For information on in-store returns and more, see full return policy
"If you're having a bad day, get this bubble bar and use a small chunk to take the most relaxing fruity bubble bath you've ever dreamed of."
Kiwi, Grand Rapids MI
Believe the Hype
L.C.
This is the one product I'd heard to get over and over again is I finally bought it. And wow. Its a sweet fruity smell, and the shape of the bar is great! If you use it right you could probably get 4 baths out of it. Lots of great bubbles, beautiful bath color and totally worth the price. I will definitely be getting again.
Yes, I would recommend to a friend
Why do people like this?
Kat
It smells exactly like nail polish remover. I have no clue how anyone can think this smells good. Yuck!
The Comforter Indeed
Sarah
Richmond, VA | 19 days ago
This is by far one of my favorite products from Lush and one of the few things I keep going back to over the years. The smell is reminiscent of a bubble bath I might've used as a child but comforts my adult mind and body. It's also huge so it ends up lasting at least four baths.
Yes, I would recommend to a friend
Smells super fruity and fresh!
Maddie
Massachusetts | 29 days ago
This is the first bubble bar I've tried from lush, and it was amazing!! I cut it up into 5 pieces, as recommended by a lush employee, and it works great! Hold it under the tap as the bath fills for maximum bubbles! It will leave crumbles if/when you cut it, so make sure to gather those and put them in the bath as well!
Yes, I would recommend to a friend
Make more things in this smell
Hanna
Honestly hot a huge fan of bubble bars in general but the smell that fills your bathroom and lingers on your skin after using has kept me returning to buy...I so so wish this smell came in a conditioner bar, wash card, and liquid body wash....please lush! C'mon!!
Yes, I would recommend to a friend
Amazing!
bellabeez
This is one of the best lush products. first, it smells amazing and it leaves a moisturizing layer on your skin. it is amazing!
Yes, I would recommend to a friend
Heaven scented
Elle
This is my favorite Lush product! The scent is heavenly sweet and makes my whole bathroom smell fruity. This bubble bar turns the water pink and provides ultra long lasting bubbles. My skin feels like silk when I leave my jetted tub. Every time I shop at Lush, I buy the Comforter Bar.
Yes, I would recommend to a friend
My favorite Lush bath product
Mel
I am obsessed. This is the best bath product I've ever used, out of alllll the products!! It smells heavenly and comforting and warm and delicious, I wish so badly they would make this into a shower gel!!!!! Please!
Yes, I would recommend to a friend
Not quite enough when split into multiple baths
A
This is maybe my fault because I thought this product was meant to provide multiple uses, but I split this bubble bar into three baths and I felt like I didn't get as many bubbles nor as strong a scent as I was expecting. Which is a bummer because this does smell amazing. I'd repurchase and not split it up so much
Yes, I would recommend to a friend
A bubble bath of Candy
Sherri
The comforter makes tons of bubbles and has a soft sweet smell like candy. It really does make a lot of bubbles.. unfortunately my weakness, is to keep breaking off just a little bit more ... more bubbles! This should last at least a handful of baths... if you have self control!
Yes, I would recommend to a friend
Never run out of your favorites
Stay stocked up with regular deliveries every one, two or three months.
Commitment-free, hassle-free
You can pause, skip, change or cancel an order at any time.
Customize your ReFresh
Build a personalized subscription plan that works for you.