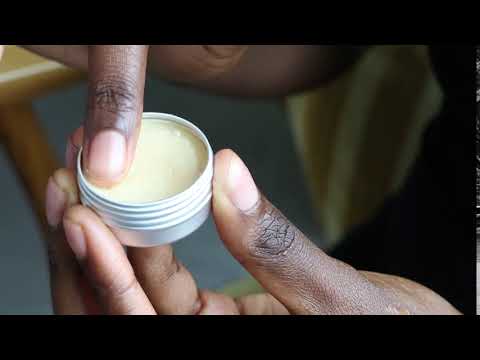 A good choice for not-too-dry, sensitive lips looking for a daily balm to soften and soothe with a sweet lemon-rose aroma.
We'll send you an email as soon as it is in stock
We will keep you posted
You'll receive an email as soon as this product is in stock
Continue Shopping
Our romantic floral lip balm has a light rose-lemon flavor to lift your mood and beautiful butters to protect your pout. Formulated with nourishing shea and cupuaçu butters, Rose Lollipop also pays homage to its namesake flower with rose oil and rose water to soothe dry or chapped lips.
Recyclable tin made from 50-80% recycled material
Benefits
Good for dry, sensitive lips
Rose oil soothes
Shea butter softens
Smooth onto lips as often as necessary for soft, lickable lips.
Melt Warning: This product was made to melt on contact with skin which means it also melts easily in warmer weather. We recommend picking it up in-store rather than having it delivered.
We do not test our finished products on animals. We also only purchase from ingredient suppliers who do not test on animals.
Learn more about our values
Shipping
Ground shipping starts at $6.00 and takes 2-8 business days to arrive after being shipped.
Priority shipping is also available.
Return Policy
Please note: we cannot accept returns without prior authorization.
To return an order made online or over the phone, contact our dedicated Customer Care team to get started.
Returned items need to be 75% intact and returned with their original packaging and include a copy of the packing slip. You can return items up to 90 days after the date we shipped your order. Shipping charges are not usually refundable.
For information on in-store returns and more, see full return policy
"I fell in love with the first use! The texture is perfect; it gives you a dewy glow."
Victoria, Louisville, KY
Meet the Ojoba Women's Shea Cooperative
The production of shea butter has changed the lives of the women of Bongo Soe, in Bolgatanga, Ghana. Now a reliable source of income, and the thread that keeps families and communities together, shea butter does more than work wonders for your skin.
Read the empowering story of these women
Not sweet at all
Kitty
Tilley park | 18 days ago
With a name with lollipop in it, you'd think t would be on the sweeter side but it is not. I can taste the rose for sure with a strong bitter after taste. It does not last as long as the kiss they used to have and it becomes oily as soon as it touches your skin. Not my favorite by far.
Don't recommend!
Alyssa
Detroit, MI | 26 days ago
I've been using this product for about a month now, and my lips have been consistently dry no matter how much lip balm I use. It's gotten to the point that my lips are extremely dry and cracked. I had to stop using. This has never happened to me before with other chapstick brands.
Wouldn't recommend for winter/ dry seasons
Julia
I'm at the point that I Am just using it daily to use it up. I have dry lips in the winter and I always put lip balm in the morning, night and post eating to keep my lips from flaking away. This lip balm if I use before bed, I wake up in the night with dry lips that hurt. Scent is fine but a bit annoying after awhile. Very thin product doesn't feel like it will last on your lips to hydrate a protect them (which it doesn't)
I would not buy this again
E.
Don't get me wrong this smells so good! However I put this on before I went to bed and I woke up with dry cracked lips. When I tried it again it didn't stay on for long and it dried my lips. I also find that this product is grainy and if you get some in your mouth it is so bitter!
Strange Texture
Kelsie
I picked this up on my most recent Lush run and noticed the texture was a lot different than my favorite lip balm, Honey Trap. I thought maybe I'd just grabbed a dud by chance but it seems other Lushies have noticed the same unusual texture. It's kind of thin, with a rough, almost gritty feel. It doesn't stay on very long and seems to overall just be a lighter less intense lip moisturizer compared to Honey Trap. On the upside though, it does leave my lips with a nice bit of shine (though not for long) and the smell is heavenly! The rose and lemon blend together so well that you can't really distinguish each, but get an irresistibly sweet and fresh perfume lingering on your lips, which is a big bonus if you wear a mask all day! Overall, Honeytrap is still my favorite, and the one I would recommend if you're looking for something seriously moisturizing and long lasting (it smells divine too!). But if you're looking for a lipbalm on the lighter side that still does its job well I think you'd like Rose Lollipop as long as you're okay with the texture and having to reapply more often.
Yes, I would recommend to a friend
Smells good but not for moisturizing
Sol
Lake Elsinore | 4 months ago
This product smells good and all but not if you want a lip moisturizer like a chap stick it works more like a gloss
Smells great but doesn't work
Catherine
Columbus, GA | 5 months ago
I love the smell but everytime I've used this product my lips peel and become so dry
Would purchase again, don't understand the bad reviews!
Mich
I bought this lip balm a week or so ago, and honestly? It's great! Before I bought it, I was getting hesitant because the reviews said it dried out people's lips, but I have not had that experience! I'm pretty picky about lip balms, and find a lot of lip balms out there DO dry out my lips, but this one does not. My lips feel soft and moisturized after using this even without reapplying that often. It also smells exactly how I expected, floral and lemony!
Yes, I would recommend to a friend
Very nice lip balm
Brooke
I use this regularly, twice a day with skin care, and after I brush my teeth. I love how it makes my lips feel, moisturized without being sticky. The product takes some time to warm up, so make sure you have clean hands, and rub finger in pot in a circular motion until you get desired amount. It does not take much product to cover the lips.
Yes, I would recommend to a friend
I won't be buying this product again.
SunKisses23
The smell is an acquired smell, definitely citrusy and I don't mind it, but you have to press to get any product to apply and it seems to run out fast, and honestly doesn't provide very much moisturization to me. It's a light wet shiny glossy feel, (which I prefer waxy or matte balms) and wipes off easily. Even when I leave it on all night while I sleep as soon as it's wiped off my lips are dry again. I don't see myself buying this product again. Not for me personally. It does give you a good dewy shine. That's about it. So for the price... I wouldn't recommend.
Never run out of your favorites
Stay stocked up with regular deliveries every one, two or three months.
Commitment-free, hassle-free
You can pause, skip, change or cancel an order at any time.
Customize your ReFresh
Build a personalized subscription plan that works for you.