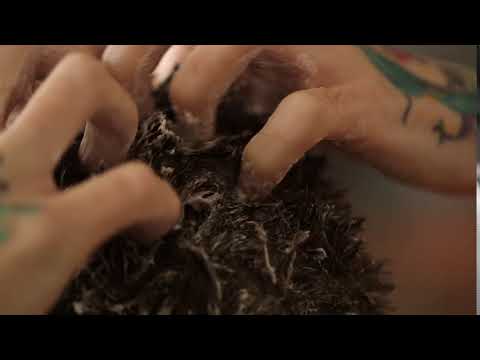 Works well for fine, thin or dull hair looking to add volume, shine and softness thanks to humectant honey, tingly mint and refreshing citrus.
We'll send you an email as soon as it is in stock
We will keep you posted
You'll receive an email as soon as this product is in stock
Continue Shopping
Fine, thin hair? Don't despair! We've got a hair and scalp treatment just for you. Minty peppermint and spearmint oils in a tingly, cooling fresh mint infusion revitalize the scalp, because healthy hair starts at the roots! Extra virgin olive oil and honey soften and condition hair to make it shine without weighing it down. Give dull, fine and thin hair volume and shine by treating it with Roots.
We buy our honey directly from apiaries local to our manufacturing centers in British Columbia and Ontario
Benefits
Three kinds of mint invigorate the scalp
Grapefruit oil refreshes and stimulates
Honey draws moisture into the hair, leaving it soft
Apply to dry hair, leave on for 20 minutes, then shampoo out.
Fresh Mint Infusion (Mentha Piperita)

(Mentha Piperita (Peppermint) Leaf Extract)
,
Water

(Aqua)
,
Cetearyl Alcohol and Sodium Lauryl Sulfate
,
Disodium Laureth Sulfosuccinate
,
Citric Acid
,
Propylene Glycol
,
Honey
,
Peppermint Oil

(Mentha piperita)
,
Sweet Orange Oil

(Citrus sinensis)
,
Spearmint Oil

(Mentha spicata)
,
Grapefruit Oil

(Citrus paradisi)
,
Nettle Absolute

(Urtica urens)
,
Neroli Oil

(Citrus Aurantium amara)
,
Extra Virgin Olive Oil

(Olea europaea)
,
*Limonene
,
*Linalool
,
*Citral
,
Fragrance
,
Methylparaben
,
Propylparaben
.
We do not test our finished products on animals. We also only purchase from ingredient suppliers who do not test on animals.
Learn more about our values
Shipping
Ground shipping starts at $6.00 and takes 2-8 business days to arrive after being shipped.
Priority shipping is also available.
Return Policy
Please note: we cannot accept returns without prior authorization.
To return an order made online or over the phone, contact our dedicated Customer Care team to get started.
Returned items need to be 75% intact and returned with their original packaging and include a copy of the packing slip. You can return items up to 90 days after the date we shipped your order. Shipping charges are not usually refundable.
For information on in-store returns and more, see full return policy
Why it works
---
Honey
Moisturizing, cleansing
"I have naturally dry hair with zero volume - this product give me shine, volume, beautiful texture... I actually get compliments on how my hair looks when I use it... It also smells wonderful - minty and crisp."
Megan, Maryland
Strengthen and Repair Your Hair
Hair need some looking after? We get it, we've all been there. That's why we've created a range of hair treatments that work for every hair type to leave your hair looking good and feeling gorgeous.
Find your hair's new best friend.
Insanely awesome
Alli
I cannot talk this stuff up enough. My fine, dry and straight hair never looks or feels better than it does after using this. It's seriously magic. Myself personally, I ironically don't put it too far up my roots cause my hair is naturally oily. But it softens and adds volume like nothing you have ever tried.
Yes, I would recommend to a friend
So good!
Michi
My hair is dry, curly, fine and thin and this stuff is amazing. Tingly and lovely feeling, super moisturizing but light and doesn't make it look oily (most products that moisturize make my hair limp and greasy). So gooooooood
Yes, I would recommend to a friend
Amazing!
Natalie
Central Illinois | 8 days ago
I LOVE this! I have long, fine, wavy hair about that is usually greasy the day after I wash it. I used Roots on my wash night, applied it to my scalp working towards my ends. I only used about half of the smaller container. The peppermint was tingly and cool on my scalp. After 20 minutes, I shampooed out with Rehab.The normal knots and tangles I experience after washing my hair were gone. My hair came out so impossibly soft; it felt like I had gotten a conditioning treatment at a salon. Like, my velvet scrunchie kept slipping out of my hair impossibly soft. My hair is still soft and silky the next day, with no oiliness on my scalp. I will absolutely continue to buy this hair treatment, and make it apart of my hair care routine. One of Lush's most effective products ever!
Yes, I would recommend to a friend
The best!
Liz
This is the best product Lush makes! It makes your hair shiny, and bouncy, basically how your hair looks after a blow out but just air drying. Eliminated my use of shampoo and conditioner. The instructions say to shampoo out and really recommend just rinsing.
Yes, I would recommend to a friend
Will never be without
Maggie-the-cat
I first tried this product when my fine, frizzy, color treated, and flat-ironed-to-death hair began falling out at an alarming rate after being treated with steroids for an auto-immune disorder. The first use strengthened my hair, returned its shine, and slowed the fallout. I now use it regularly - this is one of the Lush products I will never be without.
Yes, I would recommend to a friend
I would and do buy this over and over again. Love it!
B.B.
I have very thin, fine hair. I use this every day. Sometimes I look at other older women's hair, and wish I could tell them they need to get this. So, so good!
Yes, I would recommend to a friend
Would not buy extremely smelly but works
Laura
I had a horrible experience using this product. It has a very strong peppermint smell that left me with a headache and sensory overload for the rest of the day. If you are sensitive to smell do not buy it is not worth it.
Yes, I would recommend to a friend
My poor brittle fine hair is finally getting what it needs
M
I've used this once and my hair already feels completely different. My hair is shiny and smooth. I'm really shocked that something finally works on my type of hair.
Yes, I would recommend to a friend
Amazing!!
Victoria Rose
Ft Lauderdale FL | 2 months ago
Wow, I love lush, but this in particular really made an impression on me! It left my hair feeling like I just came out of the salon! So soft and light! I have extremely oily and thin hair. I will DEFINITELY be buying this again ASAP!
Yes, I would recommend to a friend
Volumizing and conditioning
Caitlin
Seattle, WA | 2 months ago
I put this all in my hair on the 2nd day without washing, let it sit for about an hour, then hopped in the shower, added a bit of water and scrubbed it in my hair, letting it sit some more. After I finished just rinsing it, my hair felt like I'd washed it, and after it dried, it's super fluffy, soft, and looks like I just washed it! I think I'll use it as a substitute for shampoo and conditioner on every 2nd or 3rd day. Amazing! Feels great and smells amazing.
Yes, I would recommend to a friend
Customers who like this item also like:
Never run out of your favorites
Stay stocked up with regular deliveries every one, two or three months.
Commitment-free, hassle-free
You can pause, skip, change or cancel an order at any time.
Customize your ReFresh
Build a personalized subscription plan that works for you.