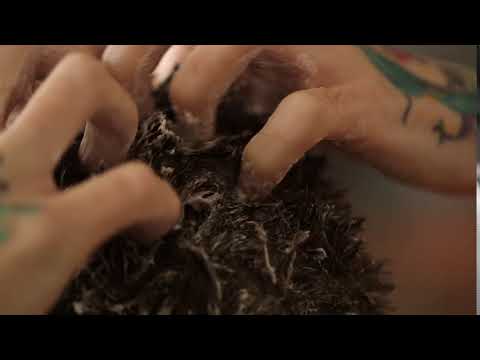 Works well for fine, thin or dull hair looking to add volume, shine and softness thanks to humectant honey, tingly mint and refreshing citrus.
We'll send you an email as soon as it is in stock
We will keep you posted
You'll receive an email as soon as this product is in stock
Continue Shopping
Fine, thin hair? Don't despair! We've got a hair and scalp treatment just for you. Minty peppermint and spearmint oils in a tingly, cooling fresh mint infusion revitalize the scalp, because healthy hair starts at the roots! Extra virgin olive oil and honey soften and condition hair to make it shine without weighing it down. Give dull, fine and thin hair volume and shine by treating it with Roots.
We buy our honey directly from apiaries local to our manufacturing centers in British Columbia and Ontario
Benefits
Three kinds of mint invigorate the scalp
Grapefruit oil refreshes and stimulates
Honey draws moisture into the hair, leaving it soft
Apply to dry hair, leave on for 20 minutes, then shampoo out.
Fresh Mint Infusion (Mentha Piperita)

(Mentha Piperita (Peppermint) Leaf Extract)
,
Water

(Aqua)
,
Cetearyl Alcohol and Sodium Lauryl Sulfate
,
Disodium Laureth Sulfosuccinate
,
Citric Acid
,
Propylene Glycol
,
Honey
,
Peppermint Oil

(Mentha piperita)
,
Sweet Orange Oil

(Citrus sinensis)
,
Spearmint Oil

(Mentha spicata)
,
Grapefruit Oil

(Citrus paradisi)
,
Nettle Absolute

(Urtica urens)
,
Neroli Oil

(Citrus Aurantium amara)
,
Extra Virgin Olive Oil

(Olea europaea)
,
*Limonene
,
*Linalool
,
*Citral
,
Fragrance
,
Methylparaben
,
Propylparaben
.
We do not test our finished products on animals. We also only purchase from ingredient suppliers who do not test on animals.
Learn more about our values
Shipping
Ground shipping starts at $6.00 and takes 2-8 business days to arrive after being shipped.
Priority shipping is also available.
Return Policy
Please note: we cannot accept returns without prior authorization.
To return an order made online or over the phone, contact our dedicated Customer Care team to get started.
Returned items need to be 75% intact and returned with their original packaging and include a copy of the packing slip. You can return items up to 90 days after the date we shipped your order. Shipping charges are not usually refundable.
For information on in-store returns and more, see full return policy
Why it works
---
Honey
Moisturizing, cleansing
"I have naturally dry hair with zero volume - this product give me shine, volume, beautiful texture... I actually get compliments on how my hair looks when I use it... It also smells wonderful - minty and crisp."
Megan, Maryland
Strengthen and Repair Your Hair
Hair need some looking after? We get it, we've all been there. That's why we've created a range of hair treatments that work for every hair type to leave your hair looking good and feeling gorgeous.
Find your hair's new best friend.
Works for both my scalp and my hair overall
Sasha
New York, NY | 8 days ago
Since all reviews center around using this treatment on scalp only, I bought this product to test it out not only on my scalp but my overall hair length (below waist). Now, my scalp is extremely sensitive to everything that gets on it, so I don't rub the treatment directly in my skin (I tried, and it proved my point). I coat my whole hair in this treatment and leave for several hours, and it really works wonders. It leaves my hair soft, shiny and lustrous, slightly straightens my waves and removes frizz a bit (nothing removes my frizz completely, so I don't blame it). The verdict is, yes, it's not just for your scalp/roots - you can apply it all over your hair and get this amazing result.
Yes, I would recommend to a friend
If you are looking for a scalp product, this!!
Rachel
After applying this to the scalp, I feel cleaner because of the coolness. Mint scent is gently mixed to give freshness. Double Thumb Up!! I am very satisfied and am using it, so I will buy again.
Yes, I would recommend to a friend
Great product!
Nico
This mask works wonders on my fine, wavy hair! After only one use my waves are defined and bouncy, my scalp feels great, and my frizz is gone. I highly recommend this for anyone with fine, limp hair - particularly if you have waves or curls. I will be using this as long as lush continues to make it!
Yes, I would recommend to a friend
Lifesaver
L.C.
For days when my scalp is just super itchy, this is the only product that fixes it immediately. For thicker hair I suggest putting it on wet hair so it soaks in better. Days when you feel like you have a lot of product buildup, dandruff, or just plain old itching, this is the best product. It works just as well on thick curly hair so do not be turned off by it being recommended for fine hair. And love the minty smell and the cooling feeling it leaves on my scalp.
Yes, I would recommend to a friend
Volume & Shine
cherie
Vancouver Island | 11 days ago
I have used this product once so far, I woke up in the morning looking in the mirror saying WOW my hair looks so good lol it was shiny and full of volume best decision ever for my thinning hair!
Yes, I would recommend to a friend
Insanely awesome
Alli
I cannot talk this stuff up enough. My fine, dry and straight hair never looks or feels better than it does after using this. It's seriously magic. Myself personally, I ironically don't put it too far up my roots cause my hair is naturally oily. But it softens and adds volume like nothing you have ever tried.
Yes, I would recommend to a friend
So good!
Michi
My hair is dry, curly, fine and thin and this stuff is amazing. Tingly and lovely feeling, super moisturizing but light and doesn't make it look oily (most products that moisturize make my hair limp and greasy). So gooooooood
Yes, I would recommend to a friend
Amazing!
Natalie
Central Illinois | 16 days ago
I LOVE this! I have long, fine, wavy hair about that is usually greasy the day after I wash it. I used Roots on my wash night, applied it to my scalp working towards my ends. I only used about half of the smaller container. The peppermint was tingly and cool on my scalp. After 20 minutes, I shampooed out with Rehab.The normal knots and tangles I experience after washing my hair were gone. My hair came out so impossibly soft; it felt like I had gotten a conditioning treatment at a salon. Like, my velvet scrunchie kept slipping out of my hair impossibly soft. My hair is still soft and silky the next day, with no oiliness on my scalp. I will absolutely continue to buy this hair treatment, and make it apart of my hair care routine. One of Lush's most effective products ever!
Yes, I would recommend to a friend
The best!
Liz
This is the best product Lush makes! It makes your hair shiny, and bouncy, basically how your hair looks after a blow out but just air drying. Eliminated my use of shampoo and conditioner. The instructions say to shampoo out and really recommend just rinsing.
Yes, I would recommend to a friend
great product
maddy
great product overall would buy this again
Yes, I would recommend to a friend
Customers who like this item also like:
Never run out of your favorites
Stay stocked up with regular deliveries every one, two or three months.
Commitment-free, hassle-free
You can pause, skip, change or cancel an order at any time.
Customize your ReFresh
Build a personalized subscription plan that works for you.