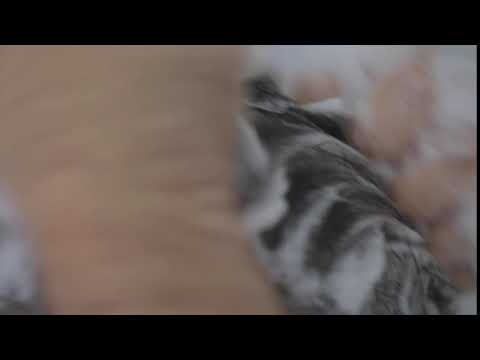 This product is absolutely amazing! I don't think I will ever use bottled shampoo ever again! The bar smells like roses, and leaves your hair soft and extremely shiny.
Lauren the Lushie, Honolulu, Hawaii
Vegan
Self Preserving
Naked
On a quest for stronger, shinier, softer hair? Look no further! This luxurious Rose Jam-scented bar will help you achieve all your hair aspirations. Gorgeous Moroccan argan oil in a moisturizing glycerin base leaves hair smooth and shiny, and our fresh and sophisticated lemon-rose perfume will linger in your locks all day long. This solid self-preserving bar will last for up to 80 washes (that's the work of three bottles of liquid shampoo!) and requires no packaging.
Since 2012, our shampoo bars have saved 22.5 million plastic bottles from being produced. That's 620 tonnes, or the weight of six blue whales!
See how to use
We'll send you an email as soon as it is in stock
We will keep you posted
You'll receive an email as soon as this product is in stock
Continue Shopping
This product is absolutely amazing! I don't think I will ever use bottled shampoo ever again! The bar smells like roses, and leaves your hair soft and extremely shiny.
Lauren the Lushie, Honolulu, Hawaii
Fresh ingredients
Full Ingredients
Sodium Lauryl Sulfate
,
Agar Agar

(Gelidium Cartilagineum)
,
Water

(Aqua)
,
Argan Oil

(Argania spinosa)
,
Glycerine
,
Fragrance
,
Rose Absolute

(Rosa damascena)
,
Geranium Oil

(Pelargonium graveolens)
,
Rose Oil

(Rosa damascena)
,
Sicilian Lemon Oil

(Citrus limonum)
,
*Limonene
,
Coumarin
,
Citronellol
,
Geraniol
,
Red 33
.
We do not test our finished products on animals. We also only purchase from ingredient suppliers who do not test on animals.
Learn more about our values
How to Use
Rub between hands to create a lather, or directly onto hair. Massage into the hair and scalp then rinse clean.
Haircare Unpackaged
Ready to save the planet? Start with your hair. We've created a range of naked (packaging-free) haircare products. From shampoo bars, to solid conditioners, we have the perfect way to save the planet, while looking fabulous.
Discover how you can get naked.
My hair is the shiniest it's ever been
Anne
I recently got this shampoo bar on a whim and after washing my hair with it 3 times, I'm really impressed. I have straight, medium length hair that is fine in texture but a lot of it. I tend to get oily roots but can typically wash every other day with dry shampoo in between. I was worried that the Argan oil in this bar would cause my hair to get too greasy but fortunately that's not the case! It cleans the hair pretty well and I was even able to go an extra day in between washes when using it. My hair feels super soft and is very shiny and glossy. My hair does feel a little different when drying, like it's going to be greasy, but once it dries my roots are perfectly clean. Also the scent is amazing, but it doesn't linger on the hair after washing out. I love the shampoo bars for travel and will definitely take this with me on my next trip!
Yes, I would recommend to a friend
BEST PURCHASE EVER
Root
Springfield, Missouri | 12 days ago
I have had the worst dandruff and itchy scalp for a very long time... I've been desperate to find something that would make it better. I was skeptical of shampoo bars and wondered if they were actually able to heal my itchy and flaky head. But within these 2 weeks of using it, my scalp has improved so much! No more itchiness and less dandruff. I bought from Lush because they're such an eco-friendly company and their ingredients are legit. It lathers so easily and I love it! I bought a bar for my boyfriend and he loves it too. The packaging was very cool and recyclable!! I also got a cute tiny sample of lotion with my order as well. I can go on and on about this bar and their products, lol. I'll never buy any plastic shampoo ever again! I found 2 great things- a wonderful product and a way to reduce plastic waste. Love love LOVE!!
Yes, I would recommend to a friend
will probably buy again
Sophie
I love this bar! It smells soooo good, and left my hair so shiny and soft! There is a LOT of dye in the bar, as you can see, and i have pink colour treated hair, so when i rinsed it i almost had a heart attack, because it rinses pink. but other than that it's great! the scent isn't overpowering in your hair. i was nervous about it, but i think i'll definitely buy it again!
Yes, I would recommend to a friend
this + Retread = LOVE
Jocelyn Lau
i've been using this and conditioning with Retread. my hair feels soft & beautiful and my husband loves it.
Yes, I would recommend to a friend
I am convinced !
Flying High
I'm very happy with these shampoo and conditioning bars. I have thick corse "virgin" hair and I've always used salon products until now. The results I get from this product is Sexy bouncy soft textured hair. Also, as a flight attendant it perfect for travel! Oh, the application is even easier than the liquid shampoo. Please give it a try.
Yes, I would recommend to a friend
My favorite shampoo!
Kimmi
Palo Alto, CA | 1 month ago
The scent is wonderful, it lathers well, and I love that my hair feels clean but still moisturized. I have tried 4 other shampoo bars from Lush and this is my favorite so far.
Yes, I would recommend to a friend
This is a good buildup remover
NurseNat
Detroit, MI | 1 month ago
I used this product 3 times. After, my hair was exponentially clean but my scalp itched extremely bad after use. I think this would be great to use like once a week to get any buildup off but this won't be my regular shampoo. Also this product (without my knowledge prior to trying the sample) has SLS which is awful for colored hair.
Really Great Shampoo Bar, Too Much Packaging
Kaela
Chicago, IL | 1 month ago
I love this shampoo bar! I have straight, middle-thickness hair and wash it every other day. I paired this with the American Cream pressed conditioner. My hair feels clean, smells great, and is so soft, and the bar is very easy to use! It lathers really well--better than other solid shampoos I've tried--and it lasted about 5 months before it broke apart and dissolved into a gel-like substance (which was also easy to use). I was surprised and pleased to see that the shampoo bar lasted almost exactly as long as the much-bigger pressed conditioner. I took off a star because my Naked hair products arrived in a box with a whole mess of plastic packaging. I want to keep using this shampoo bar, but I'll stick to other, more sustainably packaged brands until I can get to a LUSH in person.
Yes, I would recommend to a friend
Amazing fragrance, and my dandruff is gone!
Becky
It has a delicious juicy fragrance, leaves my hair clean and shiny. I used to use Head &Shoulders dandruff shampoo a couple times a week, but after using this Jason and the Argan Oil shampoo bar... My dandruff has gone away! I'm really happy :)
Yes, I would recommend to a friend
I didn't think I'd love it this much
Brianne
Lake Lure, North Carolina | 1 month ago
I was hesitant to buy this product because I've always used bottled shampoo but after trying it for around a month now I absolutely love it! It never made my hair greasy and is very easy to use, it lathers very quickly. I'm excited to never have to buy another bottle of shampoo, plus it smells amazing.
Yes, I would recommend to a friend
Customers who like this item also like:
Never run out of your favorites
Stay stocked up with regular deliveries every one, two or three months.
Commitment-free, hassle-free
You can pause, skip, change or cancel an order at any time.
Customize your ReFresh
Build a personalized subscription plan that works for you.