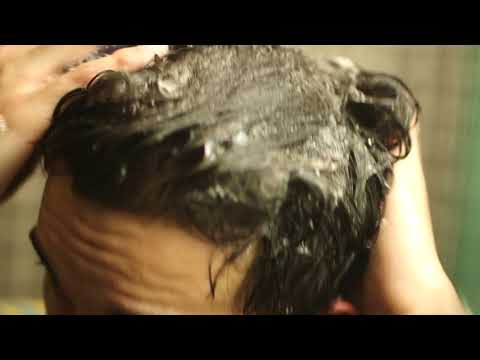 Deep-clean oily, dull hair and congested scalps with this cleansing, soothing packaging-free shampoo bar filled with shine-boosting lemon and lime.
We'll send you an email as soon as it is in stock
We will keep you posted
You'll receive an email as soon as this product is in stock
Continue Shopping
Our purple shampoo bar sorts out oily hair problems by washing away grease and managing oil production. Fruity juniper berry oil clarifies oily, congested scalps, while lemon and lime make your hair clean and shiny and give it an extra fresh scent. The incredible herbal duo of soothing lavender and cleansing rosemary calm and stimulate the scalp, because healthy hair comes from a healthy scalp.
One bar replaces up to three 250ml bottles of liquid shampoo
Benefits
Lemon and lime oils cut through grease to add shine
Lavender and rosemary soothe your scalp
Juniper berry oil helps decongest oil build-up in hair
Vegan
Self Preserving
Naked
Rub between hands to create a lather, or directly onto hair. Massage into the hair and scalp then rinse clean.
Storage
Keep your shampoo bar somewhere dry and draining between uses. For travel, pop it in a sealed container like one of our round tins.
Sodium Lauryl Sulfate
,
Lavender Infusion

(Lavandula angustifolia)
,
Rosemary Infusion

(Rosmarinus officinalis)
,
Fragrance
,
Lemon Oil

(Citrus limonum)
,
Juniperberry Oil

(Juniperus communis)
,
Lime Oil

(Citrus aurantifolia)
,
*Citral
,
*Limonene
,
*Geraniol
,
*Linalool
,
Propylene Glycol
,
Violet 2
.
We do not test our finished products on animals. We also only purchase from ingredient suppliers who do not test on animals.
Learn more about our values
Shipping
Ground shipping starts at $6.00 and takes 2-8 business days to arrive after being shipped.
Priority shipping is also available.
Return Policy
Please note: we cannot accept returns without prior authorization.
To return an order made online or over the phone, contact our dedicated Customer Care team to get started.
Returned items need to be 75% intact and returned with their original packaging and include a copy of the packing slip. You can return items up to 90 days after the date we shipped your order. Shipping charges are not usually refundable.
For information on in-store returns and more, see full return policy
Why it works
---
Lime Oil
Uplifting, Protecting, Refreshing
"This product blew my mind! Smell is amazing and lathers amazingly... Perfect for home, travel and everything in between!"
Kelly, Washington
Haircare Unpackaged
Ready to save the planet? Start with your hair. We've created a range of naked (packaging-free) haircare products. From shampoo bars, to solid conditioners, we have the perfect way to save the planet, while looking fabulous.
Discover how you can get naked.
Much better than I expected
CPan
Vancouver, BC | 5 days ago
I've never used a shampoo bar and this one surprised me in a good way. It lathers well and feels very clean after wash. I have a lot hair and used to wash my hair every other day. Now I can wash my hair every 3 days.
Yes, I would recommend to a friend
Fell Apart 1st Use ..?
Livvy Liv
Phoenix, AZ | 13 days ago
I barely got to use this product, as the first time I used it, it completely crumbled apart in my hands. I don't know if I got a defective bar...? It was unharmed in the packaging. I tried to piece some of the chunks back together and mold it back to its original state but no luck. I could not get the full effect of the bar cause I had to use pieces that eventually just shriveled up and were tossed out :( Who knows I may try again
Yes, I would recommend to a friend
Holygrail
Goulet
I usually don't like shampoo bars, but this one works really well!! I work in a pizzeria so my hair gets greasy really easily. Normally I would wash my hair everyday but with this shampoo, I can wait till two days!! I never do reviews, in fact this is my first time haha.
Yes, I would recommend to a friend
My Oily hair fix, hands down.
Carita Cat
This has been so helpful for my oily and damaged hair. It's so easy to use and smells absolutely amazing. Jumping Juniper has become my go to shampoo bar.
Yes, I would recommend to a friend
First shampoo bar; was nervous, but I'm so glad now!
Lulu
I was ready to dive into the world of solid shampoo in an effort to reduce plastic waste, but I was nervous! I have long blonde hair, medium thickness, fine, oily, limp... I've been using Pantene for most of my life. I chose this bar because it looked like it was going to be best-suited for my hair. I am so in love! I waited until I had been using it for a few weeks to give a good review. I rub the bar directly on my roots (roughly every other day) and the lather is great. I like the way it smells a lot, and my hair feels nice and clean after. I highly highly recommend!
Yes, I would recommend to a friend
Fine, grease-prone hair? Look no further!
Fae
Wouldn't you like to know, weatherboy? | 27 days ago
My favorite shampoo was always I Love Juicy, nothing every helped it look nearly as nice. Well, I didn't get the memo that it was being discontinued before I ran out :'( So I looked for alternatives-- and lo and behold I find Jumping Juniper. I'm a big lavender fan, and while I miss the bright scent of Juicy the lavender and juniperberry smell of this is super nice. The only con is that it can make your hair feel a little dry, but I highly recommend pairing it with a conditioner like Veganese (maybe Golden Cap as well if you're looking for entirely naked products, but I haven't gotten around to trying it yet so I can't be sure!) to counteract that. For people like me with fine, grease-prone hair with skin that dries out with too many showers, this is nothing short of a lifesaver.
Yes, I would recommend to a friend
The Perfect Shampoo Bar for Me!
Victoria
My hair is on the curlier and thicker side, and I absolutely love what this shampoo bar does for my hair! My hair has become softer and healthier, and I feel it has greatly reduced the amount of dandruff I have as my scalp tends to get dry especially in the winter. I also noticed this shampoo bar really helps keep my hair from getting oily if I decide to go a few days without washing it. I'm already on my third one! The only thing I'm not a huge huge fan of is the scent, so I give it four stars!
Yes, I would recommend to a friend
Made me LOSE hair!!!
Katara
After using it for a few months I am writing another review. (My last review was "Smells nice but leaves my hair dry" in November, 2020) I bought this shampoo bar in May. My hair started to dry out (and I had soft, healthy, hair). I wanted to see if it was my shampoo that was drying out my hair, so I started washing with Jumping Juniper on my left half of my head, and another brand shampoo on the right. For at least a month. I was losing a lot of hair, and I thought it was because of stress. But now I have thinned out and even balding spots ON MY LEFT SIDE. And on my left side ONLY. Please buy yourself something more nourishing for your hair and scalp. Don't waste your money.
So impressed!! Never buying bottled shampoo again
Sabrina
I was a bit skeptical being it my first time using bar shampoo. I was interested in an alternative to always buying shampoo and conditioner in plastic containers. I have naturally oily hair. It takes getting used to rubbing the soap bar around your hands to get the soap to lather up. But trust me this is a great product! I normally have to wash my hair every other day due to oiliness. My hair after using this product was the softest it has ever been, not kidding. Super shiny and soft, and felt very light! It felt like the hair dresser had just washed my hair. I would recommend this to anyone looking for an environmentally friendly option and to anyone with naturally greasy and oily hair! I will buy again.
Makes my scalp dry and itchy, strips my hair
mymorningcatnip
Cleveland, Ohio | 1 month ago
I've been off and on Lush shampoo bars for years now, because I believe in the motivation behind being package free, etc. However, all of these shampoo bars make my scalp dry and itchy, and my hair dresser can always tell when I've switched back to them because they are stripping. It's 2020, and I think there are just better sustainable shampoo options available. These haven't changed for years, and it's I've definitely noticed the market is growing around them, they don't usually make a top 5 list anymore. Makes me sad, but with all the plastic Lush has now and the lack of the moisture these products provide, I think I'm done using them.
Never run out of your favorites
Stay stocked up with regular deliveries every one, two or three months.
Commitment-free, hassle-free
You can pause, skip, change or cancel an order at any time.
Customize your ReFresh
Build a personalized subscription plan that works for you.