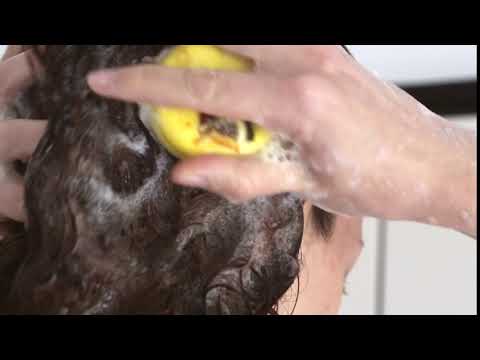 Great for hair that's feeling a little dull: this Mediterranean marvel boosts shine, adds subtle volume, cleanses your scalp and leaves you smelling lemon-rosemary fresh.
We'll send you an email as soon as it is in stock
We will keep you posted
You'll receive an email as soon as this product is in stock
Continue Shopping
Attention, dull hair! Montalbano is on the case. Made with brightening Sicilian lemon oil, lemon juice and fresh olives, it'll make hair shine bright like a diamond from root to tip. Our inventors have also added rosemary to this sudser to help keep irritated scalps soothed, while leaving hair smelling like a fresh citrusy grove with an herbal edge.
One bar replaces up to three 250ml bottles of liquid shampoo
Benefits
Lemon juice keeps hair bright and clean
Rosemary tones and soothes troubled scalps
Green olives add nourishment
Vegan
Self Preserving
Naked
Rub between hands to create a lather, or directly onto hair. Massage into the hair and scalp then rinse clean.
Sodium Lauryl Sulfate
,
Fragrance
,
Green Olives

(Olea Europaea)
,
Sicilian Lemon Oil

(Citrus limonum)
,
Fresh Lemon Juice

(Citrus limonum)
,
Fresh Lemon Peel

(Citrus Limonum)
,
Popping Candy

(Isomalt, Lycasin, Carbon Dioxide)
,
Lemon Peel Powder

(Citrus Medica Limonum (Lemon) Peel Powder)
,
Lemon Slice

(Citrus Limonum)
,
Rosemary Absolute

(Rosmarinus officinalis)
,
Organic Lemon Myrtle Oil

(Backhousia Citriodora)
,
*Citral
,
*Geraniol
,
*Limonene
,
Gardenia Extract

(Gardenia jasminoides)
.
We do not test our finished products on animals. We also only purchase from ingredient suppliers who do not test on animals.
Learn more about our values
Shipping
Ground shipping starts at $6.00 and takes 2-8 business days to arrive after being shipped.
Priority shipping is also available.
Return Policy
Please note: we cannot accept returns without prior authorization.
To return an order made online or over the phone, contact our dedicated Customer Care team to get started.
Returned items need to be 75% intact and returned with their original packaging and include a copy of the packing slip. You can return items up to 90 days after the date we shipped your order. Shipping charges are not usually refundable.
For information on in-store returns and more, see full return policy
"Montalbano is like a breath of fresh air! My hair feels so incredibly soft, clean, light... I can't recommend it enough. I'll never go back to traditional shampoo now."
Jacquelyn, Houston, Texas
Haircare Unpackaged
Ready to save the planet? Start with your hair. We've created a range of naked (packaging-free) haircare products. From shampoo bars, to solid conditioners, we have the perfect way to save the planet, while looking fabulous.
Discover how you can get naked.
Squeaky Clean Hair & Scalp But Flat, Brittle Hair
Olivia
The scent is super refreshing and I really appreciated the bits of lemon peel, which felt really nice on my scalp. However my only complaint is it was a little too moisture stripping for me.... I have wavy hair that's long and tends to get oily on day 3/4. This may be better suited for people with very oily scalps, and if you have a dry/normal I do not recommend.
I will forever use this!
McKenna Eastridge
Before buying, there were so many great reviews but no one said what kind of hair they had which is what I was wondering, so here's mine! I used to (key words) have oily hair after a day and a half of not washing and super frizzy hair. I am only on my third time using this bar and can go four days without washing and still NO OIL!! It also gives great volume and smells sooooooo good. I pair it with the American Cream conditioner bar and my hair smells wonderful and looks better than ever. GO BUY
Yes, I would recommend to a friend
Awesome and will sooo buy more!!
Jayded
Corpus Christi, TX | 12 days ago
I've been trying to find a good shampoo to clean my hair with and this did what I needed it to do. I like the fact that the scent is light but still there even a few hours later!
Yes, I would recommend to a friend
An absolute MUST HAVE
Neveah
I bought this bar based on scent alone because I LOVE lemon and rose. This does not disappoint. What drove me to leave a review however was how great it has made my hair feel! Immediately in the shower my hair felt super soft and as I was rinsing it out I really felt like my hair was squeaky clean. The smell is definitely lingering, which I love, and as it dries it's staying soft and not getting frizzy. This product will definitely be a staple in the products I use from now on!
Yes, I would recommend to a friend
10/10
Alexa
100% would recommend. GREAT SCENT!!! and I feel very ecofriendly when using :)
Yes, I would recommend to a friend
Good morning sunshine
Tanya
Belspring, Virginia | 26 days ago
My new favorite shampoo. Suds like mad and leaves my hair squeaky clean and shiny. It has turned me onto helping the planet by using less plastic in my home. A lovely product. I am a convert for sure
Yes, I would recommend to a friend
Never going back
Melissa from Queens
I have super thick, dry curly hair, but also a scalp that's always felt kind of ..gunky? A depressing combination of dandruff and oils. I've tried all sorts of dandruff treatments..scalp build up treatments..cowashing etc etc in vain. Thought it was just gonna be a lifelong issue...but... I've been on a "go green" kick and thought I'd give this a try not expecting it to be any different from every other lousy shampoo I've ever tried, but at least I'd help save the planet. This was just such a game changer. Lather is rich..leaves my hair with that weirdly slippery, squeaky feeling but has totally fixed my scalp issues in 3 washes!! Smells good and I use conditioner so the squeakyness goes away. And I'm not hurting the planet! Win win win!! I cant wait to try other flavors
Yes, I would recommend to a friend
Good shampoo but overpowering scent
E
This shampoo has helped my oily, 2b hair. If I use it directly on my hair some pieces of the middle come out, but if you get suds on your hands and then put it in your hair it's not a problem. The one bad thing about it is that it smells so strongly. I little of its citrus lemon scent would smell good, but whenever I walk into my small bathroom it hits me and is way overpowering.
Yes, I would recommend to a friend
Amazing
Sarabeth
Honestly, I love this bar. I don't usually go for a lemony sent, but it was so worth it! My hair is smooth and EXTREMELY soft. Like, blown away soft. I have had problems with the lather on shampoo bars before, this this lather is AMAZING.
Yes, I would recommend to a friend
New favorite shampoo, will buy again
jen
First shampoo bar I've tried, ever, and I'm completely hooked. I've been using Montalbano for a few weeks (daily hair washer) and there's tons of product left & my fine hair is doing great. Definitely noticed it's SHINIER than it's been in years and stays cleaner & bouncier throughout the day and into the next morning. Plus it makes the bathroom smell lemony fresh. SO happy I came across this shampoo!
Yes, I would recommend to a friend
Customers who like this item also like:
Never run out of your favorites
Stay stocked up with regular deliveries every one, two or three months.
Commitment-free, hassle-free
You can pause, skip, change or cancel an order at any time.
Customize your ReFresh
Build a personalized subscription plan that works for you.