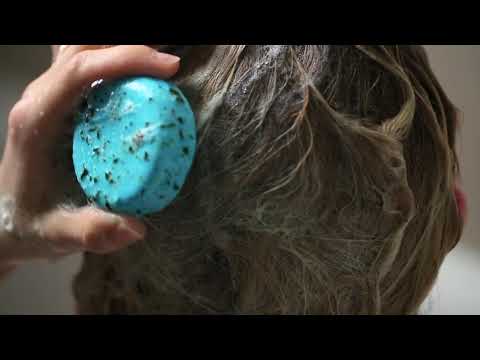 Boost volume, add shine and leave hair feeling soft, nourished and sensational with this beachy shampoo bar filled with seaweed, sea salt and lemon oil.
We'll send you an email as soon as it is in stock
We will keep you posted
You'll receive an email as soon as this product is in stock
Continue Shopping
Soften tangled locks and add oceans of shine with this mineral-rich, volumizing shampoo bar. Seanik is made with ingredients from the sea: softening Irish moss seaweed and Japanese nori seaweed make hair soft as silk from root to tip, and sea salt gives body and volume to hair that tends to fall flat. We've also added lemon oil for extra shine, and a sensual blend of floral oils to perfume your hair subtly all day long.
One bar replaces up to three 250ml bottles of liquid shampoo
Benefits
Lemon oil adds shine to your locks
Sea salt boosts volume at the roots
Seaweed nourishes and softens hair
Vegan
Self Preserving
Naked
Rub between hands to create a lather, or directly onto hair. Massage into the hair and scalp then rinse clean.
Storage
Keep your shampoo bar somewhere dry and draining between uses. For travel, pop it in a sealed container like one of our round tins.
Sodium Lauryl Sulfate
,
Irish Moss Gel

(Chondrus crispus)
,
Fragrance
,
Nori Seaweed

(Algae)
,
Fine Sea Salt

(Sodium Chloride)
,
Lemon Oil

(Citrus limonum)
,
Mimosa Absolute

(Acacia decurrens)
,
Orange Flower Absolute

(Citrus aurantium amara)
,
Jasmine Absolute

(Jasminum grandiflorum)
,
Sodium Cocoamphoacetate
,
*Limonene
,
Blue 1
.
We do not test our finished products on animals. We also only purchase from ingredient suppliers who do not test on animals.
Learn more about our values
Shipping
Ground shipping starts at $6.00 and takes 2-8 business days to arrive after being shipped.
Priority shipping is also available.
Return Policy
Please note: we cannot accept returns without prior authorization.
To return an order made online or over the phone, contact our dedicated Customer Care team to get started.
Returned items need to be 75% intact and returned with their original packaging and include a copy of the packing slip. You can return items up to 90 days after the date we shipped your order. Shipping charges are not usually refundable.
For information on in-store returns and more, see full return policy
"Seanik has given my hair the bounce and shine it's long-deserved...Five-stars across the board."
Rach, Tennessee
Haircare Unpackaged
Ready to save the planet? Start with your hair. We've created a range of naked (packaging-free) haircare products. From shampoo bars, to solid conditioners, we have the perfect way to save the planet, while looking fabulous.
Discover how you can get naked.
I love this shampoo
Kathleen
I love the smell of this shampoo, it's not overwhelming. I was surprised at how much it suds!! I love it!! I will be buying it again!!
Yes, I would recommend to a friend
Wonderful as always :)
Kate
I have thick, thick hair that tangles easily. I've always had to use a bunch of conditioner and detanglers, and it always felt oily. Not anymore. My hair has never felt softer or looked shinier. I can run a brush through it easily. I only use a little leave-in conditioner once a week or two now. It's also great for travel: I don't have to worry about liquid carry-on limits or a leaking shampoo bottle. A little goes a long way, so it lasts a while. I'll buy this as long as Lush keeps selling it.
Yes, I would recommend to a friend
Does the job
Les
Massachusetts | 16 days ago
I bought this in May, and still not finished in January. So easy to use, and no plastic to throw out. Nice smell, easy on my fine hair, all good! Try it!
Yes, I would recommend to a friend
My favorite shampoo
CPear
Ive never been that person to have a favorite shampoo until I started using this a year and a half ago. I don't need to use conditioner, my hair looks great for days. I love that it doesn't come in bulky packaging allowing our household to keep reducing our trash. Love love love this shampoo bar.
Yes, I would recommend to a friend
Great for soft water gunk
Dana
I recently installed a water softener and my hair absolutely hates it. I have long, thick, wavy, red hair and I'm naturally oily. The water softener made it 10 times worse, even right after showering and drying my hair, it felt gunky and I could barely run my fingers through my hair. With one wash with Seanik I saw a difference. After 2-3 washes, I was back to normal. Will definitely keep buying this!
Yes, I would recommend to a friend
The best
Stacey
It's the only shampoo, bar or otherwise, that actually improves my hair. It noticeably softens my hair while cleansing my scalp and makes my hair feel very light.
Yes, I would recommend to a friend
It's ok
Seatlstarr
Lathers well. Nice volume. I was expecting a nice fragrance like the others I have tried from lush. I cannot smell anything while using this. Would not purchase again.
absolutely YES
Mary
smells lovely, great foam, left hair very clean, smelling fresh :))
Yes, I would recommend to a friend
Great shampoo bar: Wavy hair
Bri40anna
Seaside, CA | 22 days ago
This is the first shampoo bar I tried from lush and it's amazing! My hair feels so soft and healthy afterwards. It's an amazing step up from target shampoo bars that just left my hair dry. Nowadays I don't even need a brush! Totally recommend it lathers up amazing!
Yes, I would recommend to a friend
A little too drying for me, but still a great purchase.
Isabelle
This is the first shampoo bar I have ever used. It smells nice and lathers amazingly. However, it does leave me with too much of a "squeaky" clean feel. It does what it says it's supposed to, but it was a little too drying for me. I have straight, fine hair that is moderately oily. I paired it with the Big conditioner bar, and I felt that my hair was drying out. However, it did last me about 3 months, which I was impressed by. I used to wash my hair everyday, but since switching to shampoo bars and conditioner bars I have reduced that to every other day. My hair had to adjust a bit at first, and I was starting to lose hope with the bars, but with time my hair adjusted and I believe it is healthier than it was when I was using normal bottle shampoo. Overall, it is a great bar if you have super oily hair, but it is just a little too drying for me.
Yes, I would recommend to a friend
Customers who like this item also like:
Never run out of your favorites
Stay stocked up with regular deliveries every one, two or three months.
Commitment-free, hassle-free
You can pause, skip, change or cancel an order at any time.
Customize your ReFresh
Build a personalized subscription plan that works for you.