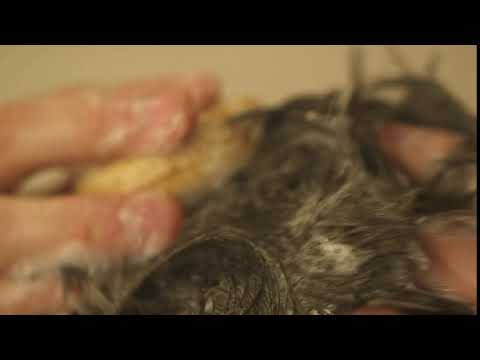 Our most soothing, calming and caring shampoo bar for dry, itchy and irritated scalps. For the scent sensitive: cade oil cleanses and soothes, but has a strong campfire smell.
We'll send you an email as soon as it is in stock
We will keep you posted
You'll receive an email as soon as this product is in stock
Continue Shopping
Sad, irritated scalps rejoice! We've got just the thing to soothe your troubles. We pack cade oil into this one to treat dry or angry scalps, leaving them feeling calm and relaxed. Rose oil works to soothe the scalp too, and also lends its heady aroma to this bar's sweet and smoky perfume.
One bar replaces up to three 250ml bottles of liquid shampoo
Benefits
Cade oil cleanses and soothes
Cedarwood tones and balances
Rose oil calms and restores
Vegan
Self Preserving
Naked
Rub between hands to create a lather, or directly onto hair. Massage into the hair and scalp then rinse clean.
Sodium Lauryl Sulfate
,
Water

(Aqua)
,
Fragrance
,
Cedarwood Absolute

(Cupressus Funebris)
,
Rose Oil

(Rosa damascena)
,
Tonka Absolute

(Dipteryx odorata)
,
Cade Oil

(Juniperus oxycedrus)
,
Marigold Petals

(Calendula officinalis)
,
Rose Petals
,
Alpha-Isomethyl Ionone
,
Citronellol
,
*Coumarin
,
Geraniol
,
*Limonene
,
*Linalool
.
We do not test our finished products on animals. We also only purchase from ingredient suppliers who do not test on animals.
Learn more about our values
Shipping
Ground shipping starts at $6.00 and takes 2-8 business days to arrive after being shipped.
Priority shipping is also available.
Return Policy
Please note: we cannot accept returns without prior authorization.
To return an order made online or over the phone, contact our dedicated Customer Care team to get started.
Returned items need to be 75% intact and returned with their original packaging and include a copy of the packing slip. You can return items up to 90 days after the date we shipped your order. Shipping charges are not usually refundable.
For information on in-store returns and more, see full return policy
"I am so thankful for this product. Ever since the first use, my hair not only feels healthy and looks great, my scalp does not itch anymore. I honestly never thought this was possible."
Laura, Santa Cruz CA
Haircare Unpackaged
Ready to save the planet? Start with your hair. We've created a range of naked (packaging-free) haircare products. From shampoo bars, to solid conditioners, we have the perfect way to save the planet, while looking fabulous.
Discover how you can get naked.
LOVE LOVE LOVE this shampoo bar!
Natasha
I have been wanting to move away from traditional shampoo (and conditioner) due to the plastic packaging, so I finally used up my shampoo and pulled the trigger on this bar. The bar has an amazing smell (I am a bit scent sensitive so I was worried the smell would be too overpowering). And this bar has a ridiculously great lather, just a few swipes goes a long way! Lastly, I've had a dry scalp for a couple of years, and the bar restored my scalp to balanced healthiness within a few uses. Highly recommend this bar!!
Yes, I would recommend to a friend
Destroyed my hair
Kiki
Albuquerque, NM | 9 days ago
I keep trying to like the hair products, truly. I tried this because it's supposed to be hydrating. Along with the conditioner I bought, within one use my hair was straw—static, breaking, split ends! It took almost a week of olaplex and oil masks to undo. Waste of money.
Very Drying
Kat
Los Angeles | 29 days ago
I have very bad dandruff and I was super excited to try this after reading that it helped many with their dandruff. It wasn't for me, it really dried out my hair. I love the way it smells and that it's a bar (eco-friendly) but unfortunately it made my dandruff worse.
A miracle!
Jess
San Jose, CA | 1 month ago
I had really dandruff for a couple of years and tried multiple shampoos that were supposed to help and they did basically nothing or made things worse. I randomly went into Lush one day and decided to ask if they had anything for dandruff, and the sales person showed me this bar. I have been using it for almost a year now and it's literally cleared up my dandruff. My hair looks and feels sooo much healthier now too! Highly recommend if you have dandruff and/ or drier hair!
Yes, I would recommend to a friend
Seborrheic Dermatitis During Pregnancy
Sara
Washington DC | 1 month ago
I've had seborrheic dermatitis since I was an early teen. Whenever my hormones increase, it gets really bad. So of course when pregnant, it's HORRIBLE. But my normal go to shampoo is medicated and not allowed so during my first pregnancy I found myself miserable and struggling until I found this shampoo. It's natural and so made me feel good about using it, but the incredible thing is that it actually works!!!!! So I'm still using it in my second pregnancy! It gets rid of the intense scaling and scabs. There is still some itchiness but it's nothing compared to before. I would ABSOLUTELY recommend this to anyone who is looking for a more natural alternative for seborrheic dermatitis. Buy it!!!!
Yes, I would recommend to a friend
Best shampoo to fight dandruff!
J THE TRAVELLER
San Diego, CA | 1 month ago
I use this to shampoo about 3x a week when I wash my hair and it's the only thing that keeps my scalp nourished without being greasy and bc it is all completely nature made, there is no residues that will need to be washed out later. It lasts me at least 9 mos but I once had the same bar for 13 mos (I had an all natural teatree shampoo I would alternate with sometimes bc I like it) The bonuses? Perfect for travel bc it doesn't need to be checked or counted in your liquid alotment! I travelled through europe for a month w/o having to check anything ever bc I was saved by this, Lush Toothie tabs and the lush solid face moisturizing bar.
Yes, I would recommend to a friend
My absolute FAVORITE shampoo!!
Colie
This is the BEST shampoo I have ever used for my dry, itchy scalp! I have been suffering with scalp psoriasis since my early teen years and this is the only shampoo I've used that actually calms and soothes my scalp. Please never discontinue this! It's Heaven sent for me!
Yes, I would recommend to a friend
Wonderful on my bald head!
Lindsay D
My partner brought a sample home for me on the recommendation of a Lush representative. I have lost most of my hair due to chemo and my scalp has been flaky and itchy. This shampoo bar has worked amazing for me. My hair is growing back in slightly and it feels amazingly soft and my scalp has not been as flaky or itchy since using this. It also smells amazing. I will buy this again.
Yes, I would recommend to a friend
Definitely helps my scalp
Alex
Boston, MA | 2 months ago
I was looking for a product for my itchy dry scalp and this did not disappoint. It didn't completely get rid of the problem but I can absolutely tell days I use this versus days I don't and it feels so much better when I do. The scent is extremely minimal and the bar suds really well. The shampoo bars are a strange texture but but I highly recommend this to anyone looking for a gentle scalp remedy!!!
Yes, I would recommend to a friend
Would not recommend
Mackenzie
I have a very dry flaky scalp that is very stubborn and unfortunately it did not work. It smells amazing and love that it's waste free but became super messy and challenging when it got stuck in the tin.
Customers who like this item also like:
Never run out of your favorites
Stay stocked up with regular deliveries every one, two or three months.
Commitment-free, hassle-free
You can pause, skip, change or cancel an order at any time.
Customize your ReFresh
Build a personalized subscription plan that works for you.