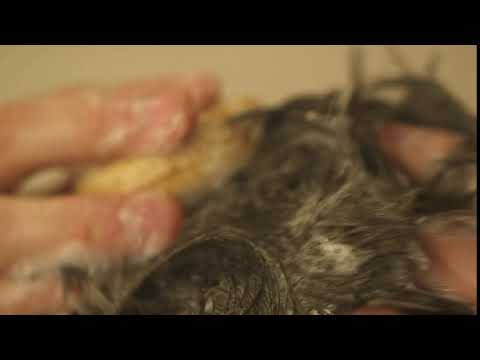 I am so thankful for this product. Ever since the first use, my hair not only feels healthy and looks great, my scalp does not itch anymore. I honestly never thought this was possible.
Laura, Santa Cruz CA
Vegan
Self Preserving
Naked
Sad, irritated scalps rejoice! We've got just the thing to soothe your troubles. We pack cade oil into this one to treat dry or angry scalps, leaving them feeling calm and relaxed. Rose oil works to soothe the scalp too, and also lends its heady aroma to this bar's sweet and smoky perfume.
Since 2012, our shampoo bars have saved 22.5 million plastic bottles from being produced. That's 620 tonnes, or the weight of six blue whales!
See how to use
We'll send you an email as soon as it is in stock
We will keep you posted
You'll receive an email as soon as this product is in stock
Continue Shopping
I am so thankful for this product. Ever since the first use, my hair not only feels healthy and looks great, my scalp does not itch anymore. I honestly never thought this was possible.
Laura, Santa Cruz CA
Fresh ingredients
Full Ingredients
Sodium Lauryl Sulfate
,
Water

(Aqua)
,
Fragrance
,
Cedarwood Absolute

(Cupressus Funebris)
,
Rose Oil

(Rosa damascena)
,
Tonka Absolute

(Dipteryx odorata)
,
Cade Oil

(Juniperus oxycedrus)
,
Marigold Petals

(Calendula officinalis)
,
Rose Petals
,
Alpha-Isomethyl Ionone
,
Citronellol
,
*Coumarin
,
Geraniol
,
*Limonene
,
*Linalool
.
We do not test our finished products on animals. We also only purchase from ingredient suppliers who do not test on animals.
Learn more about our values
How to Use
Rub between hands to create a lather, or directly onto hair. Massage into the hair and scalp then rinse clean.
Haircare Unpackaged
Ready to save the planet? Start with your hair. We've created a range of naked (packaging-free) haircare products. From shampoo bars, to solid conditioners, we have the perfect way to save the planet, while looking fabulous.
Discover how you can get naked.
My go to shampoo
Dani
I have been using this shampoo for 5 years now and it is worth every penny. I have scalp psoriasis and this is the only product that I trust to keep my scalp from becoming a flaky nightmare.
Yes, I would recommend to a friend
It was good then it wasn't
Karina
During the first 2 months of use, it would clean my hair and reduce my dandruff. However, in the last month (I've had it for 3 months), it leaves my hair with a grease coat. My roots are not greasy but the dandruff is back and worst. It constantly feels dirty and greasy and unfortunately I'll have to stop using it.
Have used for YEARS-dandruff's worst enemy
Shelby
Houston, TX | 25 days ago
I was diagnosed with sebhorreic dermatitis(essentially, extreme dandruff) when I was about 10 years old. Going through middle school and high school with constant flakes SUCKED. I was on medicated sprays and shampoos, and every dandruff shampoo I tried, whether prescribed or store bought, my scalp would eventually develop a resistance to. Until I bought this when I was about 15 or 16. I am 22 now, and this is the only shampoo I have used since then. I am flake free without my hair being sucked of all moisture, and no resistance has developed. I also definitely notice a difference if I, say, forget it while traveling and use hotel shampoos for a week instead. It is pricier than lush's other shampoo bars, but if you have stubborn dandruff, I could not recommend this enough.
Yes, I would recommend to a friend
Saved my scalp!!!
Lily
After a year of struggling with a relentlessly itchy scalp and after trying countless other shampoos my scalp finally feels amazing. I tried the "New" bar before this and it dried my hair out and made my scalp itch even worse. After that, I was almost afraid to try this one but I'm so glad I did. My scalp is way less flaky and is ITCH FREE! My hair is more manageable, softer, and feels way healthier. The only time it made my scalp itch was when I didn't rinse it out enough, so make sure to rinse it out well. It smells lovely and lathers easily. I like to rub it in my hands and apply the suds to my scalp rather than rub the bar on my scalp. One extra tip, don't get the circle tin for it, get the oval or square tin. Sometimes it'll get stuck to the tin and it helps to have that extra space to get your fingers under there and pull it off.
Yes, I would recommend to a friend
Hubby loves it for Itchy Scalp
lush10yrs
On the recommendation of a lush store employee my husband who suffers from dandruff bought this for a month trip we we're taking so as not to bring liquids or creams on the flight. 10 yrs later it is still his staple and the biggest question we both have is when will lush make a conditioner dandruff version of soak and float. My conditioner travel staple is Jungle, but he doesn't like the smell for his hair as it too sweet smelling for his liking on him but loves the smell on me, which makes him wish more for a dandruff moisturizing soak and float conditioner bar version for him. I imagine there's more people who feel the same.
Yes, I would recommend to a friend
Love
Rebecca
Las Vegas, NV | 1 month ago
It lathers so much better than similar products & my scalp feels great & clean. Plus My scalp itches less.
Yes, I would recommend to a friend
Clean feel
CarP
I really like this shampoo! Feels really clean after use
Yes, I would recommend to a friend
Great for my curly hair
Lessig
Southern New Jersey | 1 month ago
I used use Wen that left me with some scale issues. I just tried this and it not only works for my scalp, but also great for my curly hair. Nice and soft and easy to manage.
Yes, I would recommend to a friend
sensitive scalp, avoid at all costs
leah
Although this product is advertised to "soothe the scalp", it will make sensitive scalp literally *scream* for help. My scalp has never been this dry and itchy my entire life, and the amount of dandruffs flaking off my scalp horrifies me. What's worse is that Lush asks return products be mailed to Toronto (I live in NY), which is impossible.
THE BEST!
Laura
Montreal, QC | 2 months ago
I have tried just about every Lush shampoo out there (liquid and solid), and this one is the best for my hair! I have thin, dry color- treated hair and Dry itchy scalp, but after 1 day I get oily roots (especially with thin hair). This cleans without drying my scalp or hair out, but also does not leave any oily residue (so not too moisturizing). Please never get rid of this Lush!! I pair it with the American Cream solid conditioner bar (pink bar) for perfect moisture :)
Yes, I would recommend to a friend
Customers who like this item also like:
Never run out of your favorites
Stay stocked up with regular deliveries every one, two or three months.
Commitment-free, hassle-free
You can pause, skip, change or cancel an order at any time.
Customize your ReFresh
Build a personalized subscription plan that works for you.