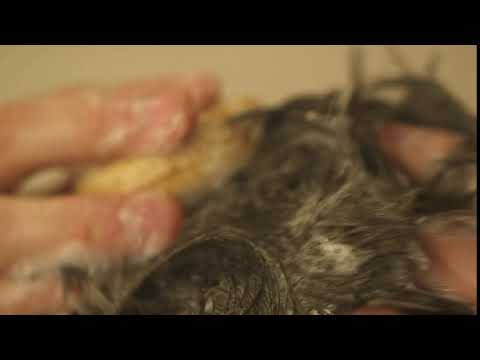 Our most soothing, calming and caring shampoo bar for dry, itchy and irritated scalps. For the scent sensitive: cade oil cleanses and soothes, but has a strong campfire smell.
We'll send you an email as soon as it is in stock
We will keep you posted
You'll receive an email as soon as this product is in stock
Continue Shopping
Sad, irritated scalps rejoice! We've got just the thing to soothe your troubles. We pack cade oil into this one to treat dry or angry scalps, leaving them feeling calm and relaxed. Rose oil works to soothe the scalp too, and also lends its heady aroma to this bar's sweet and smoky perfume.
One bar replaces up to three 250ml bottles of liquid shampoo
Benefits
Cade oil cleanses and soothes
Cedarwood tones and balances
Rose oil calms and restores
Vegan
Self Preserving
Naked
Rub between hands to create a lather, or directly onto hair. Massage into the hair and scalp then rinse clean.
Storage
Keep your shampoo bar somewhere dry and draining between uses. For travel, pop it in a sealed container like one of our round tins.
Sodium Lauryl Sulfate
,
Water

(Aqua)
,
Fragrance
,
Cedarwood Absolute

(Cupressus Funebris)
,
Rose Oil

(Rosa damascena)
,
Tonka Absolute

(Dipteryx odorata)
,
Cade Oil

(Juniperus oxycedrus)
,
Marigold Petals

(Calendula officinalis)
,
Rose Petals
,
Alpha-Isomethyl Ionone
,
Citronellol
,
*Coumarin
,
Geraniol
,
*Limonene
,
*Linalool
.
We do not test our finished products on animals. We also only purchase from ingredient suppliers who do not test on animals.
Learn more about our values
Shipping
Ground shipping starts at $6.00 and takes 2-8 business days to arrive after being shipped.
Priority shipping is also available.
Return Policy
Please note: we cannot accept returns without prior authorization.
To return an order made online or over the phone, contact our dedicated Customer Care team to get started.
Returned items need to be 75% intact and returned with their original packaging and include a copy of the packing slip. You can return items up to 90 days after the date we shipped your order. Shipping charges are not usually refundable.
For information on in-store returns and more, see full return policy
"I am so thankful for this product. Ever since the first use, my hair not only feels healthy and looks great, my scalp does not itch anymore. I honestly never thought this was possible."
Laura, Santa Cruz CA
Haircare Unpackaged
Ready to save the planet? Start with your hair. We've created a range of naked (packaging-free) haircare products. From shampoo bars, to solid conditioners, we have the perfect way to save the planet, while looking fabulous.
Discover how you can get naked.
My go to shampoo now
Alyssa
Santa Rosa, CA | 10 days ago
Got this for my boyfriend and his dry scalp and eczema.. This helped a ton. I was curious and got myself one and it made my hair feel so much better.
Yes, I would recommend to a friend
Shower staple
Cristine
I have a really itchy, dry scalp thanks to my lifelong bff (jk) eczema. I kinda just put up with constantly scratching my head and having brittle, dry hair. My sister suggested I try this. I've been using it for a week now and my hair and scalp are loving it. I have a problem spot right on my part that constantly flakes and it hasn't flared up at all. It also makes the bathroom smell amazing haha! I really like this product so far.
Yes, I would recommend to a friend
My new shampoo
JMS
I love this shampoo bar. My scalp has been very uncomfortable and itchy and it has made my hair, especially the back scalp, very oily. After using this bar once my hair and scalp felt clean and my scalp is nowhere near as itchy.
Yes, I would recommend to a friend
Goodbye dandruff!!
Anna
I absolutely love this product! It really did what no other anti-dandruff shampoo had been able to do for my scalp...ever! I've been using this shampoo bar for about a month now and all the flakiness on my scalp is pretty much gone at this point. However, I make sure I use it mostly on my scalp - it dries out my hair if I use it all over. So, make sure you get a good conditioner to go with this wonderful shampoo bar.
Yes, I would recommend to a friend
LOVE LOVE LOVE this shampoo bar!
Natasha
I have been wanting to move away from traditional shampoo (and conditioner) due to the plastic packaging, so I finally used up my shampoo and pulled the trigger on this bar. The bar has an amazing smell (I am a bit scent sensitive so I was worried the smell would be too overpowering). And this bar has a ridiculously great lather, just a few swipes goes a long way! Lastly, I've had a dry scalp for a couple of years, and the bar restored my scalp to balanced healthiness within a few uses. Highly recommend this bar!!
Yes, I would recommend to a friend
Destroyed my hair
Kiki
Albuquerque, NM | 20 days ago
I keep trying to like the hair products, truly. I tried this because it's supposed to be hydrating. Along with the conditioner I bought, within one use my hair was straw—static, breaking, split ends! It took almost a week of olaplex and oil masks to undo. Waste of money.
Helps Somewhat with Dryness and Itchiness; Can Feel Rough
Jasmine
I noticed that I was getting a dry, itchy scalp in winter months about a year ago so I switched to his bar per the suggestion of a Lush associate just for the cold season. I noticed an immediate difference in the dryness and itchiness that same winter after using it for just a few weeks. Now I'm on my second time using it during the winter months and I truly believe it's saved my scalp from all the dryness I experience during this time of year! I tend to have sensitive, itchy skin in general so sometimes I still itch if I'm in between washes, but the dandruff has been reduced greatly. The only con I have with this bar is that towards the end of its life when water has eroded its circular shape, it starts to get rough and the wood/flower petal pieces can tug at wet hair. I would recommend lathering this up in your hands first, then using your hands to wash your hair vs. rubbing the bar in your hair. This bar works wonders for my dry, itchy scalp during the winter so I would definitely recommend if you're having similar issues!
Yes, I would recommend to a friend
Holy Grail
Liz
This is my favorite product from Lush by far. I have looked far and wide for a cruelty free shampoo that works for my flake prone scalp and this is the one. I will never stop using this product so long as it's available. Did I mention, that it smells AMAZING and lathers so well.
Yes, I would recommend to a friend
Recommended for dry scalp
n/a
Austin, Texas | 1 month ago
I use this bar in my rotation and think it smells nice and works. Worth it.
Yes, I would recommend to a friend
Very Drying
Kat
Los Angeles | 1 month ago
I have very bad dandruff and I was super excited to try this after reading that it helped many with their dandruff. It wasn't for me, it really dried out my hair. I love the way it smells and that it's a bar (eco-friendly) but unfortunately it made my dandruff worse.
Customers who like this item also like:
Never run out of your favorites
Stay stocked up with regular deliveries every one, two or three months.
Commitment-free, hassle-free
You can pause, skip, change or cancel an order at any time.
Customize your ReFresh
Build a personalized subscription plan that works for you.